'Nevada failed to hold the driver accountable,' NTSB says of North Las Vegas crash that killed 9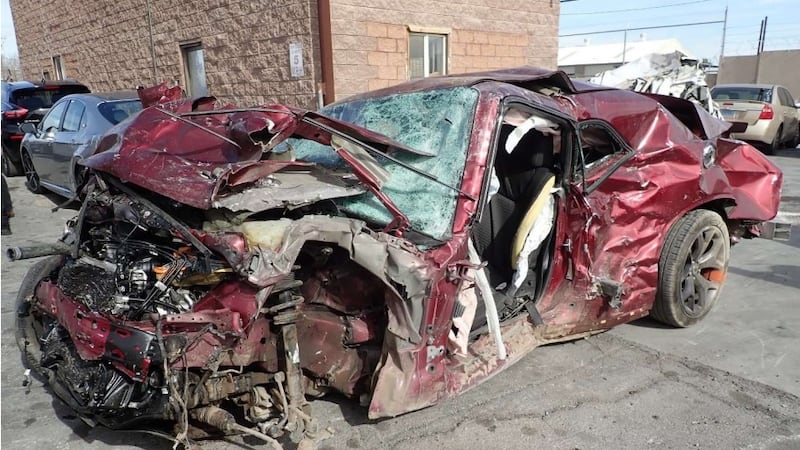 Published: Nov. 14, 2023 at 12:03 PM PST
DETROIT (AP) — Federal accident investigators want automakers to install systems on all new vehicles that warn drivers when they go over the speed limit, and it is asking safety regulators to figure out how states can electronically limit speeds on vehicles driven by repeat traffic offenders.
The National Transportation Safety Board's recommendations to combat excessive speeding came after a hearing Tuesday on a January 2022 crash in North Las Vegas, Nevada. In that crash, the driver of a Dodge Challenger with a long record of speeding ran a red light at 103 miles per hour (166 kilometers per hour) and slammed into a minivan, killing himself and eight others.
The board, which can only make recommendations and has no regulatory authority, determined that the Challenger driver's excessive speed and failure to obey a stop sign and red light caused the crash. His impairment from cocaine and PCP contributed. But it also found that the state of Nevada failed to seriously punish the driver after he was charged with five speeding violations in the 17 months before the crash.
Some of the violations were reduced to parking tickets in plea bargains, and neighboring courts were unaware of the string of driving problems in other courts, the board said.
"The state of Nevada must do better about removing the silos of adjacent courts and sharing information," board member Michael Graham said. "The state of Nevada failed to hold the driver accountable."
NTSB staff members said the problem of one court not knowing what another has done with a repeat traffic violator happens in other states as well. They said that unless court data is distributed widely, it will be hard to impose punishment on repeat offenders.
The board recommended that the National Highway Traffic Safety Administration develop measures to reduce repeat speeding offenders, and to develop guidelines to help states test speed-limiting devices on vehicles owned by repeat offenders. It also recommended that states develop ways to identify chronic speeders and reduce repeat offenses.
NHTSA will be asked to require as standard equipment on all new vehicles "intelligent speed assistance systems" that use cameras and mapping to determine the speed limit and at minimum, warn drivers when they go over it. The board also discussed pushing states to install active systems that make it harder for a repeat offender to speed, or limit speeding altogether.
The crash on a weekend evening killed the 59-year-old driver with a history of traffic and criminal offenses and his 46-year-old male passenger in a Dodge Challenger that investigators found accelerated before it ran a red light and slammed into the Toyota Sienna minivan.
Three other vehicles were damaged in chain-reaction crashes at the busy multi-lane crossroads. In all, 15 people were involved, including a 31-year-old woman who was critically injured but recovered. She was involved in a memorial tree planting a year later.
The seven dead family members ranged in age from 5 to 35 years old and lived in North Las Vegas.
An autopsy found the driver who caused the crash, Gary Dean Robinson of North Las Vegas, had levels of cocaine and PCP in his system above levels at which Nevada law says a driver is presumed to be intoxicated. Records showed he had a yearslong history of traffic and criminal offenses, including speeding, and served time in state prison after pleading guilty in 2004 to felony cocaine possession and violating probation.
Just days before the crash, Robinson pleaded guilty in Las Vegas to speeding, court records show. He was fined $150.
Copyright 2023 The Associated Press. All rights reserved.