Golden Knights' Paul Cotter ejected for illegal check to head of Washington's Evgeny Kuznetsov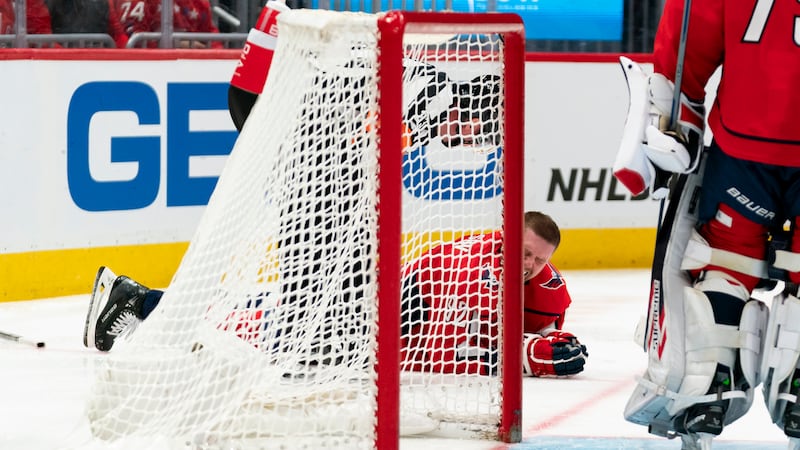 Published: Nov. 15, 2023 at 7:28 AM PST
WASHINGTON (AP) — Vegas Golden Knights forward Paul Cotter was ejected for an illegal check to the head of Washington Capitals center Evgeny Kuznetsov during the teams' game Tuesday night and could face a suspension.
Cotter hit Kuznetsov in the head with his left shoulder early in the second period. Kuznetsov lay on the ice for more than a minute and immediately left the ice to get checked out, in accordance with NHL concussion protocol.
The on-ice officials reviewed the hit and gave Cotter a match penalty that carried with it a five-minute power play the Capitals failed to score on. Kuznetsov returned later in the period.
Vegas coach Bruce Cassidy didn't see the hit right away and deferred to the officials.
"I thought his stick might have caught him or something the way he went down," Cassidy said. "But they make the call, and we've got to get it done. It's a 1-0 game. We've got to be careful it doesn't get away from us, so, I thought our guys really stepped up and that was awesome, our (penalty kill)."
Cotter, who has no prior disciplinary history, could have a hearing with the league's department of player safety as soon as Wednesday. Vegas next plays Thursday night at Montreal, the second stop on the defending Stanley Cup champion's five-game road trip.
Copyright 2023 The Associated Press. All rights reserved.