Fashion Show Mall to require paid parking during F1′s Las Vegas Grand Prix
Published: Nov. 10, 2023 at 10:09 AM PST
LAS VEGAS, Nev. (FOX5) - With F1′s Las Vegas Grand Prix set to kick off next Thursday, some properties in the area are instituting paid parking policies.
According to the Fashion Show Mall, the shopping center on the strip will have a paid parking policy in place during the three days of F1′s event. However, the shopping center does note that it will implement a method for customers of the mall to have their fees refunded to them.
The facility advised that starting Thursday, ACE Parking will require guests to pay $40 to park at Fashion Show Mall. However, according to the Fashion Show, if guests spend $100, in aggregate before 5 p.m., they can then visit any of ACE Parking's validation stations, and show their receipts, and ACE Parking will refund the parking charge to the guest's credit card.
Fashion Show said the same process will be available for Friday and Saturday with those parking fees being $40 and $75, respectively.
While the validation process ends at 5 p.m. for shopping, Fashion Show noted that guests who dine at any of the shopping center's sit-down restaurants facing Las Vegas Boulevard can have their parking fees waived with $100 in dining spend until 11:59 p.m. each of the three days.
According to Fashion Show's website, parking validation stations will be located throughout the center:
The Great Hall (in front of Apple): 10 a.m. until 5 p.m.
Neiman Marcus Court: 10 a.m. until 7 p.m.
The FSLV Plaza (next to Galpao Gaucho and RA Sushi): 5 p.m. until 12 a.m.
For those interested in parking at the Fashion Show in order to visit the race festivities in some capacity, the shopping center says guests can purchase parking in advance with links on the fslv.com website.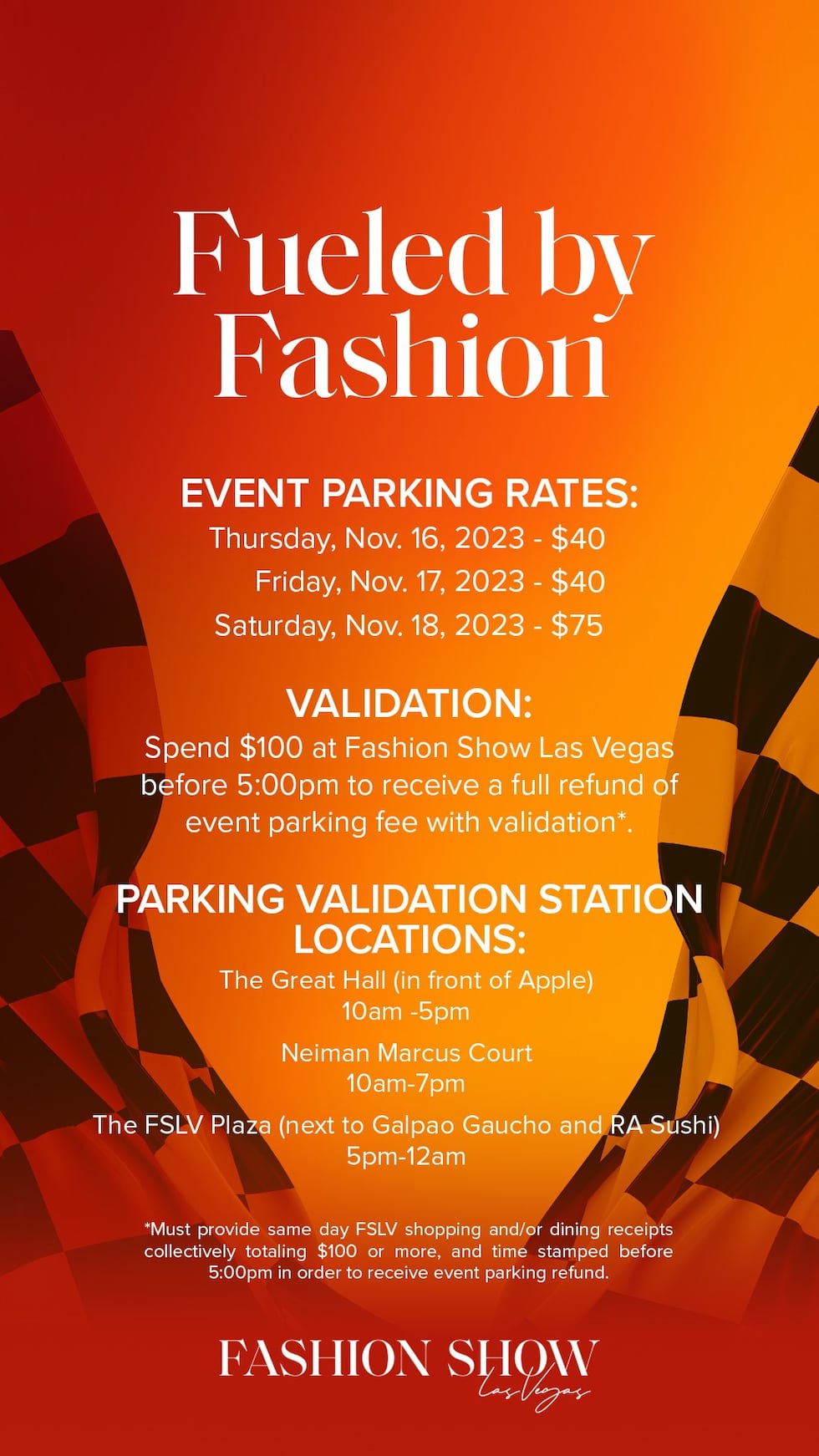 Copyright 2023 KVVU. All rights reserved.