Kings win 7th straight road game with 4-1 win over Golden Knights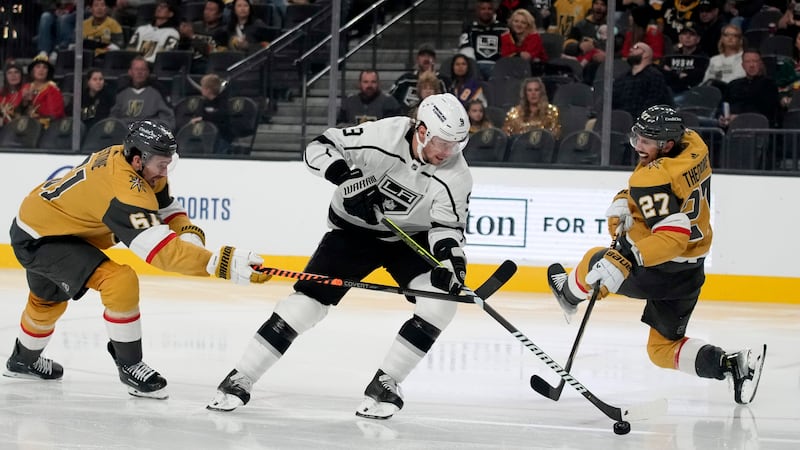 Published: Nov. 9, 2023 at 6:44 AM PST
LAS VEGAS (AP) — Adrian Kempe had a goal and an assist and the Los Angeles Kings won their fourth in a row with a 4-1 victory over the Vegas Golden Knights on Wednesday night.
The Kings became just the eighth team in league history to win each of their first seven road games to start a season, and the first to accomplish the feat since the Pittsburgh Penguins and New Jersey Devils did it in 2009.
After opening the season with points in their first 12 games, the Golden Knights lost for the second straight time in regulation. Vegas hadn't lost consecutive games in regulation since Jan. 16 and 19 of last season, to Dallas and Detroit, respectively.
Trevor Moore, Pierre-Luc Dubois and Anze Kopitar also scored for the Kings. Cam Talbot made 37 saves and is now tied with two others with a league-leading seven wins.
William Karlsson scored for the Golden Knights and Adin Hill stopped 29 shots.
The Kings broke through first, opening the scoring midway through the second period.
Hemmed into the offensive zone, defenseman Jordan Spence blasted a shot from the blue line and Kempe was there for the clean up on the right side of the net, slamming home the rebound for a 1-0 lead.
"It was the game we thought it would be," Kings coach Todd McLellan said. "I thought early it was a boxing match. Everybody was just taking jabs and waiting for something to give. Fortunate to score first, and I think that's always an advantage against this team."
It wouldn't take long for the Kings to extend their lead, as it was Spence once again with a blistering shot from the top, only this time Moore with a redirect from the slot.
With another power-play opportunity, Dubois beat Hill from the left side of the goal when he tapped home a rebound to push Los Angeles' lead to 3-0 early in the third.
Karlsson brought life to an announced crowd of 18,330 in attendance when he cut Los Angeles' lead to two goals, but it wasn't enough to overcome the Kings' momentum.
"I think we've kind of run out of gas a little bit," Vegas captain Mark Stone said. "And I thought we played pretty well for a majority of the game. Third period just kind of shut it down a little bit, didn't really have our legs. But adversity doesn't kill you, it makes you stronger. We'll be ready for San Jose on Friday night."
Kopitar, who also had an assist earlier, notched the 400th goal of his career with an empty-netter to provide the final margin.
Since Vegas joined the NHL ahead of the 2017-18 season, no skater has more points against the Golden Knights than Kopitar (13 goals, 21 assists).
"Obviously, it's a good feeling. I didn't think it was going to happen tonight," Kopitar said. "I figured I'd give it a go (at an empty net). Memories like this, you want to be on the winning side of this. I thought we played a solid, solid game tonight. It's obviously a good feeling to get the two points."
UP NEXT
Kings: Host Pittsburgh on Thursday.
Golden Knights: Host San Jose on Friday.
Copyright 2023 The Associated Press. All rights reserved.