Las Vegas air travel, gaming win see small September increases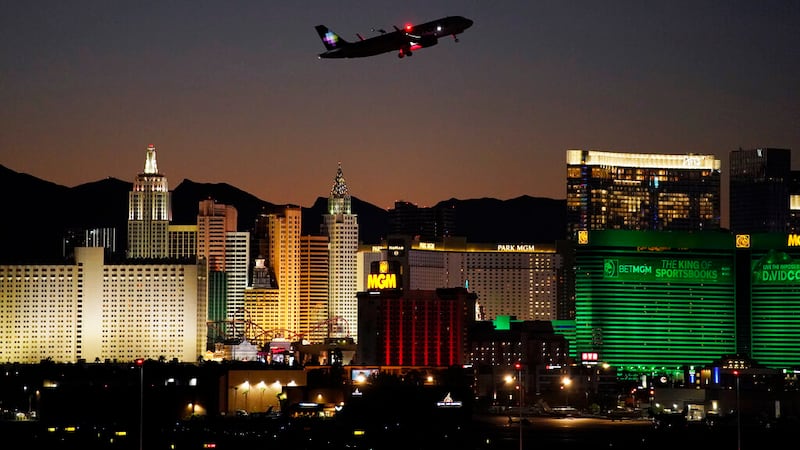 Published: Nov. 1, 2023 at 1:53 PM PDT
LAS VEGAS, Nev. (FOX5) - The number of air travelers passing through Las Vegas saw a small year-over-year increase last month, with similar gains reflected in the win total reported by gaming license holders.
In a media release, Harry Reid International Airport reported that it saw 4,788,444 arriving and departing passengers in September, a 0.7% increase over one year ago for the same period. That brings the year-to-date passenger total to 42,501,599, a 10.3% increase for the year so far.
When looking at the numbers by carrier type, international travelers provided the biggest gain, with a 6.9% rise from 2022. Domestic travel was up 0.5%, while west side/helicopter traffic fell 7.8%.
Southwest saw the biggest increase in year-over-year passenger totals in September. The carrier transported 1,792,818 passengers to and from Las Vegas last month for an 11.4% increase compared to 2022. Delta traffic was up 5.9%.
Nevada's nonrestricted gaming licensees reported a total gaming win of $1,270,598,215 for the month of September, which amounts to a 1.69% increase compared to September 2022, when licensees reported a gaming win of $1,249,470,541. For the fiscal year (July 1, 2023 through September 30, 2023), gaming win has increased 2.91%.
Broken down geographically, the Las Vegas Strip led the way regarding increases, as it saw a 6.94% increase compared to one year ago. Clark County was up 2.79%.
The State collected $77,616,809 in percentage fees during the month of October (through Oct. 30), based on the taxable revenues generated in September. This represents a 3.59% (or $2,889,724) decrease compared to October 2022, when percentage fee collections were $80,506,533.
Copyright 2023 KVVU. All rights reserved.