Marchessault, Theodore lift Golden Knights to 3-2 shootout win over Canadiens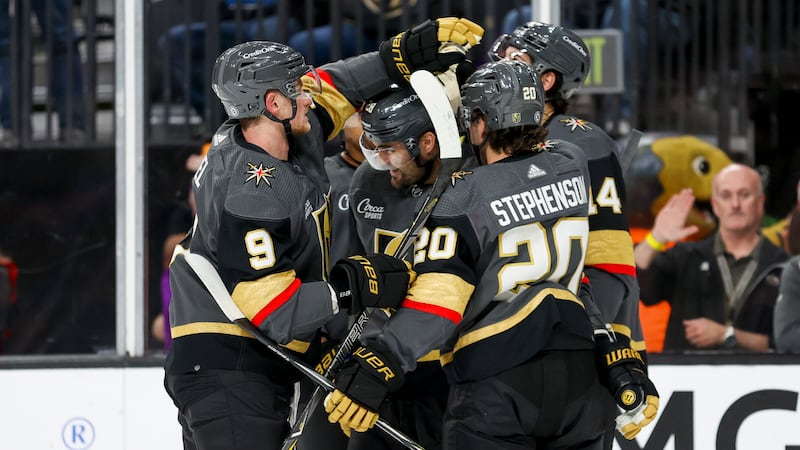 Published: Oct. 31, 2023 at 6:35 AM PDT
LAS VEGAS (AP) — Jonathan Marchessault and Shea Theordore scored in the shootout and the Vegas Golden Knights beat the Montreal Canadiens 3-2 Monday night.
Paul Cotter and William Carrier scored in regulation, and Adin Hill made 37 saves as the Golden Knights improved to a league-best 9-0-1.
Sean Monahan and Nick Suzuki scored for Montreal. Sam Montembeault made 24 saves.
The Golden Knights went to overtime for the third game in four nights, after losing to the Blackhawks in the extra period on Friday and winning a shootout in Los Angeles on Saturday.
"They took it to us, they came to play their game," Cotter said about the Candiens, who finished October 5-2-1. "We got to remember that as reigning champs we got something to prove every night and every team's going to give us their best. They came out strong and I think we took a while to bounce back."
Jack Eichel had a chance to win the game for Vegas in the extra period with a penalty shot after Suzuki tried to stop him on a breakaway, but Montembeault stymied the shot with a pad save.
The Canadiens outshot the defending Stanley Cup champions 39-26, the first time Montreal has outshot an opponent in seven games and just the second time in nine games this season.
"The one thing I can take from this game, we were emotionally challenged tonight with some of the calls," Montreal coach Martin St. Louis said. "We knew were playing well. It just seemed like we were swimming against currents sometimes. In the past, we would have lost ourselves in that emotional challenge."
Cotter opened the scoring with a power-play goal when he ripped a shot from the top of the right circle with just under 5 minutes remaining in the first.
Monahan got his team-leading fifth goal when Hill misplayed the puck trying to clear it during a penalty kill. Instead, Hill fed Monahan, who was left alone with an empty net to tie it 5 1/2 minutes into the second period. It was the first short-handed goal allowed by Vegas this season.
The Golden Knights, outshot 11-2 in second period, regained the lead with less than 2 minutes remaining in the period when Chandler Stephenson slipped a pass across the slot to Carrier, who was there to chip the puck past Montembeault.
The Canadiens continued to apply heavy pressure in the third, having outshot Vegas 13-5 before Suzuki finally broke through with 4:18 left to tie the score at 2-all. It was Suzuki's second goal of the season, and fourth of his career against his former team.
Besides whiffing on his pass to clear the puck on Montreal's first goal, Hill said he was happy with his performance while improving to 5-0-1 after the first month of the season.
"I felt like I was seeing the puck well and my movement was well," Hill said. "Outside the one mistake, I felt like I had a good game. So it's just reminding yourself 'hey, I feel good and just keep going.' I know our team has our back and we got another goal shortly after that, so that was big, and found a way to get two points tonight."
UP NEXT
Canadiens: Visit Arizona on Thursday night.
Golden Knights: Host Winnipeg on Thursday night.
Copyright 2023 The Associated Press. All rights reserved.