Death Valley National Park to partially re-open on Sunday
Published: Oct. 13, 2023 at 1:34 PM PDT
LAS VEGAS, Nev. (FOX5) - Death Valley National Park will partially reopen on Sunday, Oct. 15.
According to a media release, visitors will be able to enter the park via CA-190 from the west via Lone Pine or from the east via Death Valley Junction. All other park entrances will remain closed.
"This was the longest closure in Death Valley National Park's history," said Superintendent Mike Reynolds. "I am excited to welcome people back to enjoy their park!"
The roads that are being opened are not yet fully repaired. Collapsed road segments have been filled in with gravel. Travelers should expect loose gravel on roads, lowered speed limits and traffic delays.
CA-190 will have one-hour delays due to an extensive section of one-lane traffic control between Panamint Springs and Father Crowley Vista. Several other places will have delays of up to 20 minutes for traffic control.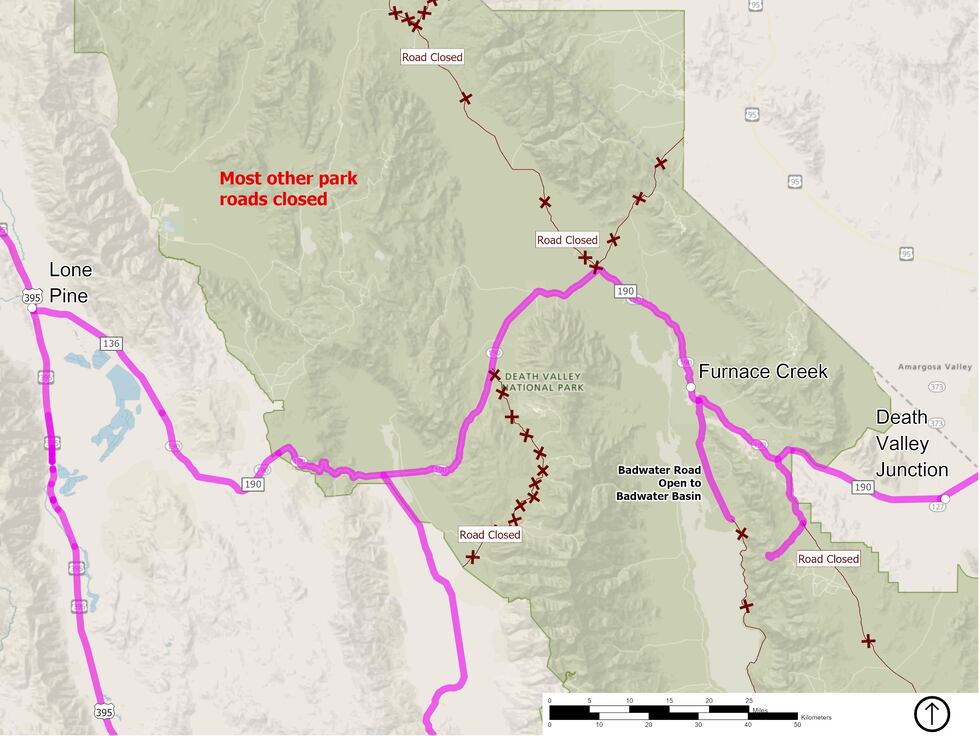 The following roads will be open starting on Oct. 15: CA-190, Badwater Road (only from CA-190 to Badwater Basin), Dantes View Road, Twenty Mule Team Canyon Road, Artists Drive, Natural Bridge Road, Mustard Canyon, and Mosaic Canyon Road. These roads provide access to many of the park's most popular viewpoints and hikes. This includes Mesquite Flat Sand Dunes, Zabriskie Point, Golden Canyon, and Mosaic Canyon.
All other roads in the park are closed to vehicular traffic.
"This is a really special time," said Superintendent Mike Reynolds. "It's pretty rare to see a lake in Death Valley."
Badwater Basin has a temporary lake that is several miles long. The lake is only a few inches deep and may dry up within a few weeks. Lodging, food, and fuel will be available at Panamint Springs Resort, Stovepipe Wells Village, and the Oasis at Death Valley. Many NPS campgrounds will also be open.
On August 20, the park received over two inches of rain in one day, which is more than the area typically sees in an entire year. Extensive flooding washed away trails and undercut pavement, causing damage to roads and trails throughout the park.
Over the last eight weeks, Caltrans, National Park Service (NPS), and contractors have made major repairs to many of the paved roads, including CA-190 running east-west through the park. More park roads will open as repairs continue.
Check the park's website for information at nps.gov/deva.
Copyright 2023 KVVU. All rights reserved.