Las Vegas man arrested for attempted murder following RTC bus shooting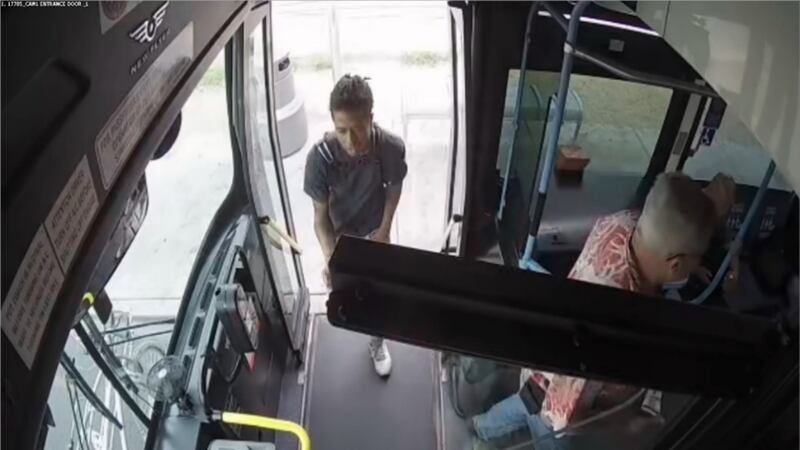 Published: Oct. 4, 2023 at 3:46 PM PDT
LAS VEGAS, Nev. (FOX5) - An apparent misunderstanding on an RTC bus this spring led to a Las Vegas man being arrested out of state for attempted murder.
Dominic Johnson, 25, is facing multiple charges, including attempted murder with the use of a deadly weapon and battery with a deadly weapon after he reportedly shot another passenger on an RTC bus in Las Vegas in May. Johnson was taken into custody and booked into the Clark County Detention Center on Oct. 1.
According to court documents, Johnson was a passenger on an RTC bus at approximately 2:27 p.m. on May 3. Surveillance video showed him standing up and drawing a handgun when the bus made a stop at Eastern Ave. and Poppy Lane. He allegedly pointed the gun at another man at the back of the bus and fired at him four times.
A report says that Johnson struck the victim multiple times and stood over him for a brief moment while the man "screamed in pain." Johnson then ran off the bus.
Witnesses watched him run through a parking lot and eventually saw him run down the stairs of a nearby apartment. Police used the suspect's social media accounts to match his description to those provided by eyewitnesses at the scene of the shooting.
Two officers were flagged down by a citizen in the area of Eastern Ave. and Bonanza Rd. at 2:28 p.m. That citizen reported that there had been a shooting on an RTC bus. Meanwhile, Las Vegas police received numerous 911 calls from various people on the bus at the time who said a man had been shot.
One of the callers identified herself as the victim's girlfriend. The officers responded and found the victim lying at the rear of the bus, suffering from an apparent gunshot wound. The victim identified himself and officers began performing lifesaving care, observing a gunshot wound to the victim's stomach. He was also bleeding heavily from the left leg.
Police eventually found four spent cartridge casings at the scene, including one that rolled to the ground directly outside the bus. There was also a pool of blood where the victim was lying. Multiple witnesses riding the bus described hearing multiple shots fired from the rear of the vehicle. The driver added that she remembered letting Johnson on the bus, even though he did not have money for the fare.
The victim's girlfriend did not recognize the suspect and said she "feared for her life" when the shooting occurred. She added that she couldn't think of any reason why the victim would be targeted.
The victim was in too much pain to speak to police at the scene, so they interviewed him at UMC Trauma two days later. He said that he had no interaction with Johnson on the bus, but added that "he could smell a fart" during the ride and was about to ask who was responsible.
Before he could ask, the victim said he found out it was his girlfriend. When he found out, he and his girlfriend began laughing. A short time later, he heard a loud pop and looked down to see that he was bleeding from the stomach. The victim then "remembered feeling himself struck with more gunfire." He felt burning in his stomach, leg and hand.
The victim added that he never had a conversation with Johnson and was "flabbergasted" at what could have caused Johnson "to target him in such a violent manner."
Surveillance video from the bus confirmed that the two men never interacted and that the suspect "appeared irritated" after hearing laughter behind him. Johnson appeared to manipulate a firearm under his shirt and police said he looked nervous and anxious for several minutes before the shooting.
"Tapping his foot, Johnson stared directly in front of him with a stoic look on his face," the report stated. As the bus came to a stop, the suspect then reportedly rose, aimed the gun at the victim, and fired.
Police set up containment in the area where the suspect fled and located his mother in a nearby apartment. A SWAT team arrived and police executed a search warrant at a residence on the 700 block of Lilly Lane. Investigators found numerous items with Johnson's name on them, as well as a .380 handgun, an extended magazine with 9mm ammunition, a polymer 80 lower handgun receiver, a magazine with .40 caliber ammunition and a box of .380 ammunition. All of those items were found in a compartment in a hall closet.
Police also found a gray t-shirt on the floor matching the one Johnson was wearing on the bus. A records check on him revealed that he is a felon following a grand larceny of firearm charge with a disposition date in 2017. It also showed that Johnson did not have a valid concealed carry permit.
Police found a phone number connected to the suspect on May 11. They used this to connect him to multiple social media profiles. A warrant of arrest was issued on charges of attempted murder, battery with a deadly weapon resulting in substantial bodily harm, battery with a deadly weapon, assault with a deadly weapon, discharging a firearm from a vehicle, possession of a firearm by a prohibited person and carrying a concealed weapon without a permit.
Johnson has a preliminary hearing in Justice Court scheduled for October 17.
Copyright 2023 KVVU. All rights reserved.