Man arrested in Denver after accused in fatal shooting near downtown Las Vegas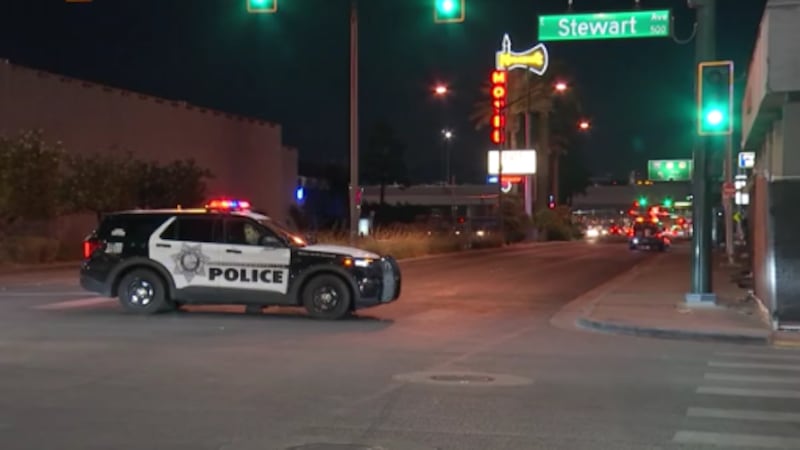 Published: Oct. 3, 2023 at 11:47 AM PDT
LAS VEGAS, Nev. (FOX5) - The Las Vegas Metropolitan Police Department says a suspect was arrested in Denver after he was accused in a fatal shooting that occurred after a fight last Wednesday.
According to authorities, LVMPD Dispatch received a report of a shooting in the 300 block of North Las Vegas Boulevard at about 1 a.m. on Sept. 27.
Arriving officers located a male who was suffering from an apparent gunshot wound. Police said medical personnel pronounced the victim deceased at the scene.
According to LVMPD, the investigation indicated that the victim was involved in an altercation with two men before he was shot. Both suspects fled on foot from the area before officers' arrival, the department said.
In a news release Tuesday, LVMPD said the department identified Lawrence White, 38, as a suspect in the incident.
According to Las Vegas police, White was taken into custody by authorities in Denver, Colorado, on Monday. He was booked into a Denver area jail for one count of open murder and is pending extradition to Las Vegas, the release states.
Anyone with any information about this incident is urged to contact the LVMPD Homicide Section by phone at 702-828-3521, or by email at homicide@lvmpd.com. To remain anonymous, contact Crime Stoppers by phone at 702-385-5555, or on the internet at www.crimestoppersofnv.com.
Copyright 2023 KVVU. All rights reserved.