Clark County investigating confrontation between homeless people and cleanup crew in flood control channel
Published: Oct. 2, 2023 at 7:03 PM PDT
LAS VEGAS, Nev. (FOX5) -Some homeless people in the Las Vegas Valley are upset, saying a company that cleans up encampment areas did not give any notice before bulldozing their belongings.
"We are concerned that the contractor in this matter may not have provided the required notice," read a statement to FOX5 from Clark County officials.
"Because we live in the tunnels, we have to fight our own community, which is supposed to be helping us. Instead, they're bringing us down," said Aurora Ross in a social media post.
Ross, who lives in a wash off Boulder Highway, recently recorded cell phone video of a company using a Bobcat to clear away her belongings in the wash. She says she started recording because she has been concerned about how cleanup crews treat the homeless. She says all her items were lost, except her phone and laptop.
"My generator, my car batteries for power, clothes, my dog food, my shelter, everything. My ID, my food stamp card, my bank card, everything," said Ross.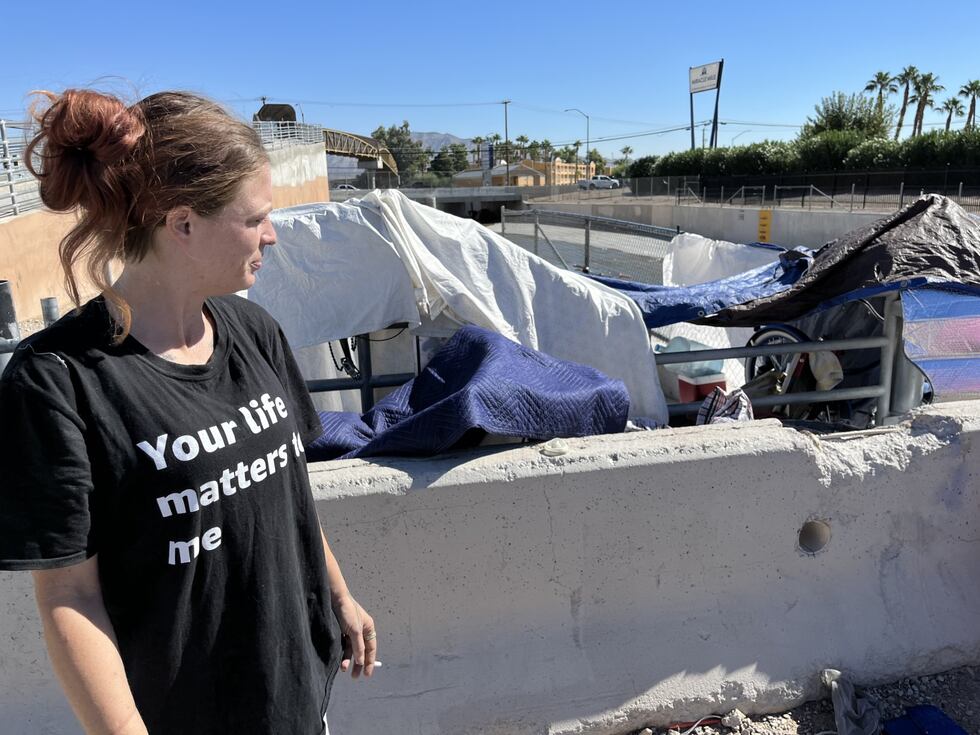 Ross plans to attend school online soon and says it will be tough to charge her computer for online classes because the cleanup crew hauled it away.
Ross and the county are also concerned about a worker displaying what Ross says was a machete.
"Under no circumstances do we tolerate any workers carrying weapons on the job unless they are authorized to do so as a condition of their employment, which is not the case in this situation. We have serious concerns about the worker brandishing a weapon during this incident and are addressing these concerns with the contractor," read the county statement to FOX5.
Clark County officials say the crew seen in the video is not a county crew. They say BrightView has a contract through the Public Works Department.
The video Ross recorded not only shows the worker with a machete, but someone she knows holding an item in his hand. She says the item was a hollow aluminum stake used to put up a tent, which she says he was in the process of doing. The BrightView worker on camera says he fears for his life and has kids he wants to go home to.
A BrightView spokesperson told FOX5 he's grateful no one was hurt, and the company has started its own internal investigation. He says what Ross described as a machete is a standard issue gardening tool, a piece of equipment no different from another tool such as a rake, shovel or wheelbarrow. He says the company will take appropriate action based on the outcome of the investigation.
Clark County officials call the homeless problem a complex one, which it's trying to address through outreach teams.
"Emotions can run high when cleanups occur, because people are facing desperate circumstances. We are committed to trying to address homelessness in ways that are humane, thoughtful and helpful to people who find themselves living in these circumstances while also working to protect and preserve our community and our neighborhoods," read the county statement.
Some homeless people have died in flood control channels over the summer. Ross says she knows at least three people who were swept away in water. We asked her about homeless people being in washes or tunnels illegally.
"I say, 'Then offer us enough places to go.' You get mad if we're on our streets," said Ross.
The group Shine A Light offers support to people living in tunnels, including substance abuse treatment and help with housing. Shine A Light estimates about 1,500 people are living in tunnels throughout the valley.
Copyright 2023 KVVU. All rights reserved.