$1B Reno casino expansion plan includes new arena that could be UNR basketball home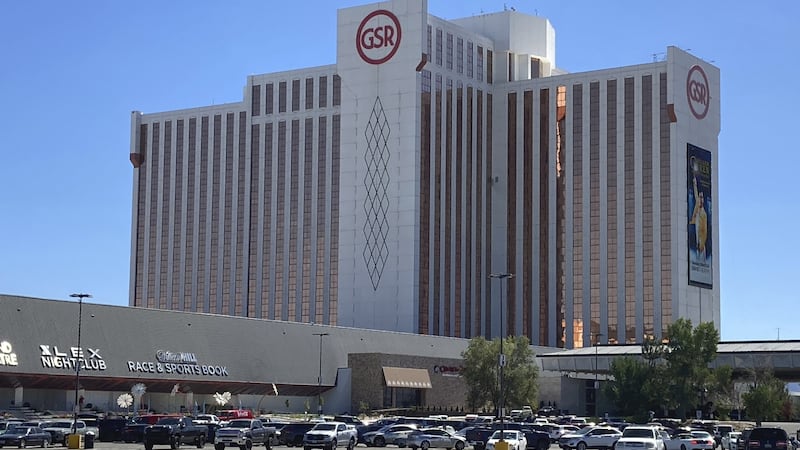 Published: Sep. 27, 2023 at 1:59 PM PDT
RENO, Nev. (AP) — The University of Nevada's basketball team could have a new off-campus home by 2026 under an ambitious 10-year expansion plan that Reno's largest hotel-casino announced Wednesday.
The nearly $1 billion private capital investment will be the biggest in the city's history, according to officials of the Grand Sierra Resort.
In addition to the new 10,000-seat sports, concert and special events arena, the expansion plans for the 140-acre (57-hectare) property include a new 800-room hotel tower, 300 riverfront residential units to help address workforce housing shortages and Las Vegas-like water shows, the company said.
"The vision is to transform GSR into a destination where community, sports and entertainment come together," resort owner Alex Mereulo said in a statement ahead of a news conference in Reno.
Mereulo and University of Nevada President Brian Sandoval said in the statement that they intend to announce "the exploration of a partnership with the Nevada men's basketball team, which could make the arena their home beginning with the fall 2026 season."
The new arena will cover approximately 300,000 square feet (27,871 square meters), including suites and premium hospitality clubs.
"The University of Nevada, Reno is excited to explore the opportunity to partner with Alex Mereulo and Grand Sierra Resort as they develop a state-of-the-art arena and entertainment district that is unprecedented in Northern Nevada," said Sandoval, a 1986 Nevada graduate who served two terms as governor before he was appointed university president in 2020.
The Wolf Pack of the Mountain West Conference has played its games on campus at the 11,500-seat Lawlor Events Center since it opened in 1983. Before that, the team played at the Reno-Sparks convention center south of downtown.
The 2,000-room resort, located along U.S. Interstate 80 a couple miles from the main downtown casino drag, boasted the largest casino floor in North America when it opened as the MGM in 1978. It later flew under the banners of Bally's and the Reno Hilton. It's been the Grand Sierra Resort since 2006.
Reno Mayor Hillary Schieve said the historic investment would be a "true game changer for our community."
"It's a massive win for our citizens, a win for the University of Nevada and a win for tourism," she said in a statement.
Last year, Las Vegas hosted Sweet 16 games for the NCAA basketball tournament at T-Mobile Arena on the Vegas Strip. But before that, the NCAA Tournament had avoided Nevada altogether because sports gambling is legal here. The governing body for collegiate athletics even had a policy prohibiting its championship events from being played in Nevada.
With legal sports betting spreading across the country, the NCAA now has no qualms about crowning its champions in Las Vegas. Others include hockey's Frozen Four in 2026 and the Final Four in 2028.
Copyright 2023 The Associated Press. All rights reserved.