Sphere Las Vegas releases general admission policy for upcoming U2 shows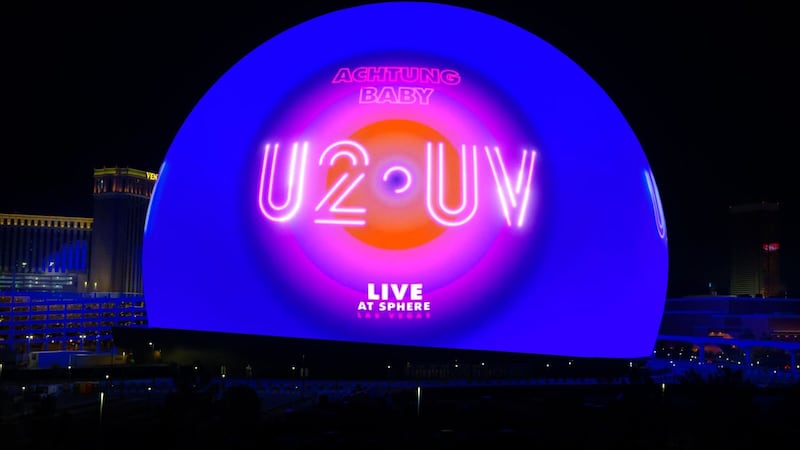 Published: Sep. 25, 2023 at 10:09 AM PDT
LAS VEGAS, Nev. (FOX5) - With U2 set to perform Friday as the first concert inside the Sphere in Las Vegas, the venue has released its policy for general admission ticket holders.
According to the Sphere, beginning at 8 a.m. on each show day, sequentially numbered wristbands will be issued on a first come, first served basis for priority entry for those with general admission tickets.
The Sphere notes that guests will need to present their general admission ticket in order to obtain a wristband, which will be distributed at the main concierge located next to the Plaza Entry.
After receiving a wristband, the Sphere says guests are asked to leave the venue and return no earlier than 5:30 p.m. However, for opening weekend only, September 29-30, guests with GA wristbands may return beginning at 5 p.m., Sphere says on its website.
Additionally, the Sphere advises that overnight lines will not be permitted and guests are not alllowed to "hold" a place in line for other guests who are arriving later.
At 5:30 p.m. that evening (5 p.m. on September 29-30), guests will present their sequentially numbered wristband at the East VIP Entry to enter and have their GA tickets scanned. The GA ticket holders will then be admitted to the GA floor once doors open at 6:30 p.m. (6 pm on September 29-30), the policy states.
According to Sphere, the numerical wristbands are only required for priority entry. GA ticket holders who do not wish to participate in priority entry will receive a standard GA wristband.
The venue notes that the wristband must remain on the guest's wrist while in line. "Any guest found with a tampered wristband will have their wristband confiscated and will lose their place in line," Sphere noted.
To view the full policy, visit: https://www.thespherevegas.com/shows/u2/general-admission-policy
Copyright 2023 KVVU. All rights reserved.