Henderson police shoot knife-wielding woman, no officers injured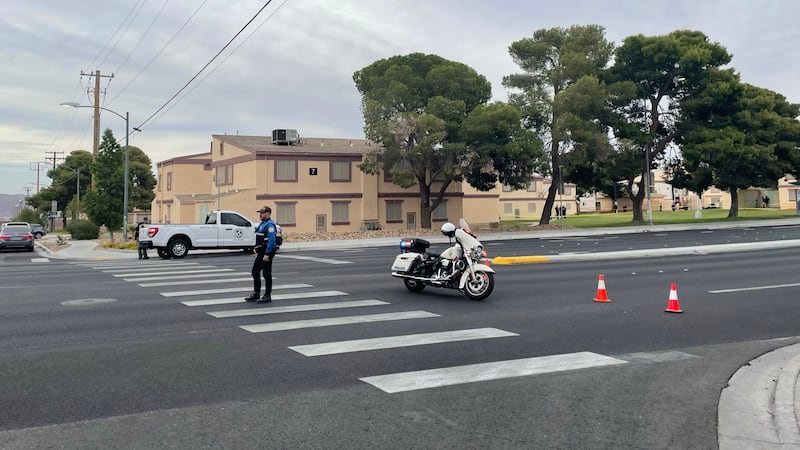 Published: Sep. 22, 2023 at 5:25 PM PDT
LAS VEGAS, Nev. (FOX5) - Just after 5 p.m. on Friday, the Henderson Police Department reported that they were responding to an officer-involved shooting in the city.
The report said that police were dispatched to the 1000 block of Center St. in Henderson. No officer injuries were reported.
Police advise avoiding the area. FOX5′s Joe Vigil spoke to a witness who captured cell phone video of the shooting.
He showed the video to three FOX5 staffers. It showed playground equipment from a nearby apartment complex and a woman holding a large, shiny metal object, which the witness said was a knife. The man says he yelled for the woman to drop the knife and then shots were heard on the video.
The witness, who insisted on remaining anonymous, did not provide the video to FOX5 and it is unknown if he provided the video to police. The man told Vigil he was upset and said that he would liked to have seen police use non-lethal force on the woman.
UPDATE: At a media briefing at approximately 7:41 p.m., a police spokesperson said that officers were dispatched at 4:30 p.m. for a report of a 33-year-old female suspect threatening another woman with a knife. The suspect reportedly pointed the knife at officers who were attempting to de-escalate the situation.
An officer ordered the suspect to drop the knife but she refused, which resulted in the officer shooting her. Police provided medical aid to the suspect until paramedics arrived on the scene. She was then taken to a nearby hospital. She is currently in stable condition according to Henderson police.
Police called it a "domestic disturbance" call but could not provide any details about the relationship between the suspect and the woman being threatened. The officer said that additional details will be provided in a future release.
Copyright 2023 KVVU. All rights reserved.