Las Vegas named among list of 25 best hiking cities in US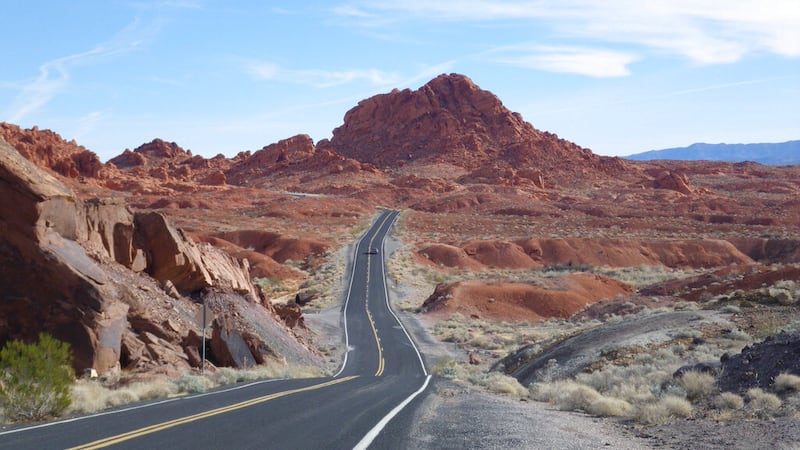 Published: Sep. 11, 2023 at 9:35 AM PDT
(CNN) — We all know that nature and hiking are good for mental and physical health. There's just something about breathing in fresh air, scrambling to summit views and basking in the warm sunshine. When you're ready for a good hike, or maybe a new travel destination that's chock-full of beautiful trails and natural beauty, we've got you covered.
We researched and put together a list of 25 US cities that are absolutely tops for these who love hiking, or at least, love to get outside from time to time. These cities are close to green spaces, hiking trails, waterfalls and mountains. They also have urban trails and public parks. We used resources like LawnStarter, then went further to include cities across the country with great appeal to outdoor lovers. Here are the cities that are perfect for hikers, from novice to experienced and all hikers in between.
Boise, Idaho
Boise is a fantastic city for hikers thanks to its close proximity to natural beauty, diverse terrain and an extensive network of trails, like the Ridge to Rivers trail system in the Boise Foothills, which boasts more than 190 miles of trails for all abilities and fitness levels. The Boise National Forest is also a go-to for hiking trails with serious vistas, like the Kepros Mountain Trail, which affords views across the Trinity Mountains. The annual month-long Boise Trails Challenge encourages locals to hike new trails. Celebrate a hike well-done at more than a dozen breweries, like 10 Barrel Brewing Co. and Payette Brewing Co.
Roanoke, Virginia
A stone's throw from the iconic Blue Ridge Parkway, Roanoke has so much to offer hikers of all levels, including the Appalachian Trail and the Roanoke Valley Greenways. Roanoke is also home to the Virginia Triple Crown, a trifecta of bucket list hikes, which includes Dragon's Tooth, Tinker Cliffs and McAfee Knob. The latter is considered the most photographed spot on the entire Appalachian Trail. Roaring Run Day Use Area is another top spot, especially for families, thanks to well-shaded trails and tumbling Roaring Run Falls. While in Roanoke, take in the views from the Roanoke Star and get in a round of disc golf at Explore Park.
Salt Lake City, Utah
Salt Lake City is a boon for hikers thanks to its location near the Wasatch Mountains, which offer numerous hiking trails and breathtaking scenery. Hikers can expect to revel in alpine lakes, dense forests, cityscapes and rocky canyons, like Big Cottonwood Canyon. A favorite kid-friendly hike is minutes from downtown and leads to Donut Falls, a picturesque waterfall. For more of a challenge, hike to the summit of Grandeur Peak for sensational panoramas across the Salt Lake Valley. Post-hike, settle in at Avenues Proper, a gastropub with a rotating tap of house-brewed beers. Open for lunch and dinner, the menu has salads, sandwiches and even a children's menu.
Burlington, Vermont
Burlington is situated in the picturesque Champlain Valley, allowing for easy access to hiking and outdoor recreation at state parks, national forests and on the lakeshores. Nearby mountain ranges, including the Green Mountains and Adirondack Mountains, enable hikes that range from strenuous summit treks to easy-breezy nature walks. A favorite hike for vistas leads to the top of Snake Mountain, which boasts views across Lake Champlain and the rugged Adirondacks. Burlington is also a stone's throw from the 272-mile Long Trail, one of the oldest long-distance hiking trails in the US. Post-hike, settle in with a pint at one of many first-rate breweries, such as Foam Brewers and Zero Gravity.
Oakland, California
Oakland is home to several regional parks, including Reinhardt Redwood Regional Park and Joaquin Miller Park, as well as beautiful Lake Merritt, a natural saltwater lake. Collectively, these open spaces and scenic landscapes offer hiking trails with views of redwood groves, city skyline and grassy meadows. At Dimond Park, the easy Bridgeview Trail allows for views of towering redwood trees. It's less than a 15-minute drive from downtown, too. At Lake Merritt, a three-mile paved loop offers an easy lakeside stroll. For post-hike libations, settle in at one of Oakland's craft breweries, like Original Pattern Brewing and Ghost Town Brewing.
Asheville, North Carolina
Set in the Blue Ridge Mountains, Asheville has a spectacular backdrop for outdoor activities, like paddling, mountain biking and hiking. The mountainous terrain allows for a diverse range of trails, from gentle slopes to strenuous peaks, that cater to hikers of all levels and abilities. The hardwood trees, high-elevation meadows and rugged mountains of Pisgah National Forest are especially popular, including Looking Glass Rock and Mount Mitchell. Asheville is also a short drive from Great Smoky Mountains National Park. For more of a stroll than a hike, visit the dog-friendly North Carolina Arboretum, which boasts more than 10 miles of hiking and biking trails, as well as 65 acres of manicured gardens.
Tucson, Arizona
Tucson is home to an abundance of hiking trails for all levels, including a variety of scenic trails at Saguaro National Park. Saguaro's Valley View Overlook Trail is a short and sweet hike that leads to an overlook high above cacti as far as the eyes can see. Keep in mind that Saguaro National Park is separated into two sections – east and west – and there are plenty of hiking trails across both park units. A mild winter climate makes Tucson a windfall for hikers, though of course, summer days can be exceptionally hot, making waterfall hikes, like Seven Falls and Tanque Verde Falls, good choices on warm days. An early start is also a good idea.
San Francisco, California
San Francisco may be best known for the iconic Golden Gate Bridge, but it's also a city that receives much love from hikers. More than 250 hiking trails criss-cross Golden Gate National Recreation Area, including the Coastal Trail, which rewards with views of the Golden Gate Bridge and Pacific Ocean. Along the way, you'll walk 200-foot-tall cliffs and stop at Mile Rock Beach. City landmarks, like Baker Beach and Twin Peaks, are also within easy reach of hiking trails. A mild climate makes it easy to hike year-round and many hiking areas are accessible by way of public transportation, including Glen Canyon Park and Mount Davidson Park.
Milwaukee, Wisconsin
Yes, there's beer in Milwaukee, but there's also an abundance of green spaces, like state parks, nature centers and state forests. In South Milwaukee, Grant Park is known for the Seven Bridges Trail, which is set on the shores of Lake Michigan. Milwaukee is also a stone's throw from the Ice Age Trail, one of 11 national scenic trails in the US. This one is located entirely in Wisconsin and stretches some 1,200 miles. There are great urban trails too, like the Hank Aaron State Trail, a 14-mile paved trail that runs east-to-west and starts near Lakeshore State Park and Discovery World on Lake Michigan.
Honolulu, Hawaii
Located on the island of Oahu, Honolulu is surrounded by breathtaking natural beauty, so it's hardly a surprise that this city is tops with hikers. It's hard to beat hiking trails with views of tumbling waterfalls, ocean panoramas, dramatic mountain ridges and lush tropical foliage. Round Top Forest Reserve has a trail for everyone, like the serene Pu'u Ohia Trail that leads hikers up to Mount Tantalus. There are hikes to ancient volcanic craters too, such as Diamond Head and Koko Head. Post-hike, order up a pint at one of Honolulu's top breweries, like Hana Koa Brewing Co. and Waikiki Brewing Co.
Lake Placid, New York
Lake Placid gets a lot of attention for its ski mountains and its heritage as a two-time host city for the Winter Olympics, but there's much more to love for hiking enthusiasts. Set your sights on becoming a "Saranac Lake 6er." To earn this hiking accolade, climb the six peaks that surround Saranac Lake, including Baker Mountain and McKenzie Mountain. Hikes range from two to 10 miles. High Falls Gorge is also a must, especially for families and new hikers. This 22-acre nature park boasts waterfalls, old-growth forest, granite cliffs and river views along easy, well-marked trails. Outdoor lovers will also love getting out on Mirror Lake in a kayak or on a stand-up paddleboard.
Eugene, Oregon
Eugene exudes natural beauty thanks to its proximity to the Willamette River, as well as the towering peaks of the Cascade Range and Coast Mountains. A mild climate also makes it a cinch to hit the trails as often as you like, though higher elevation trails may be impacted by winter snow. The McKenzie River Trail, a hiking and mountain biking trail, is a popular choice thanks to fir trees, lava fields, river views and cascading waterfalls. Another favorite is the easy hike to Sweet Creek Falls in Siuslaw National Forest. Post-hike, enjoy a pint at Ninkasi Brewing Company or Hop Valley Brewing.
Los Angeles, California
Los Angeles may be better known for its movie stars and iconic landmarks, like the Hollywood Sign and Hollywood Walk of Fame, but this glittering city is also home to rugged mountains, dramatic canyons, arid deserts and coastal terrain. Pair LA's diverse landscapes with a mild year-round climate and Los Angeles is a favorite among hikers. The San Gabriel and Santa Monica Mountains offer miles of hiking trails with cascading waterfalls, lush valleys, swimming holes and curious rock formations. The hike to the top of Mount Baldy, the tallest peak in Los Angeles County, rewards with spectacular 360-degree vistas.
Greenville, South Carolina
Greenville is an outdoor lover's dream thanks to its location within the Blue Ridge Mountains and the Appalachian foothills. Greenville is also a short drive from nearly a dozen state parks, including Paris Mountain State Park and Caesars Head State Park, which is home to the state's tallest waterfall, Raven Cliff Falls. The popular 22-mile Swamp Rabbit Trail runs through Greenville. This urban trail is just right for walking, hiking and biking. In-town, stroll the historic downtown area in search of nine bronze mice on Main Street that make up the Mice on Main scavenger hunt. It's an enjoyable and creative way to explore Greenville.
Las Vegas, Nevada
Las Vegas may be best known for glitzy casinos and glamorous shows, but Sin City is truly a wonderland for outdoor recreation lovers. Red Rock Canyon National Conservation Area is an easy 30-minute drive from the Las Vegas Strip and has more than 30 hikes and hiking trails. The Kraft Mountain Loop is a favorite thanks to rock scrambles and a wash chock full of colorful rock formations. Valley of Fire State Park is also popular with geologically inclined hikers due to its abundance of orange, pink and red rock formations with names like Elephant Rock, Fire Wave and Mouse Tank. Post-hike, fill up on a walking food tour with Lip Smacking Foodie Tours.
Marquette, Michigan
For outdoor enthusiasts, there's no better place to be in Michigan than the Upper Peninsula, which is home to Pictured Rocks National Lakeshore, Presque Isle Park and the Porcupine Mountains. It's also a best bet to make Marquette your base camp for all kinds of hiking adventures. Hiking to the summit of Sugarloaf Mountain is a favorite for views across Lake Superior. Plan to step foot on the North Country Trail, which runs through Marquette. This 4,800-mile hiking trail is the longest of the 11 trails in the national trails system, which includes the Appalachian Trail. Marquette is also home to gorgeous beaches like Black Rocks Beach and Pebble Beach.
Seattle, Washington
Seattle is a mecca for nature enthusiasts thanks to its close proximity to the Puget Sound and Cascade Range. It's also not far from Mount Rainier, Washington's highest point, which stands mighty at 14,410 feet tall. To the west of Seattle is Olympic National Park, which has a trail system that features temperate rainforests, rugged coastlines and high alpine regions. Seattle is also known for its hiker-friendly culture, thanks in part to its year-round hiking opportunities. Diverse hiking options range from family-friendly walks at Lake Union to more challenging backcountry adventures at Goat Rocks Wilderness.
New York, New York
New York City may be an urban metropolis known for Times Square and Broadway, but it's also a great city for outdoor lovers thanks to its proximity to mountains, like the Catskills and the Adirondacks. It's also less than 90 minutes from idyllic state parks, like Storm King State Park and Harriman State Park. The 750-mile Empire State Trail, a multi-use trail for hikers and bikers, starts at the Staten Island Ferry, then continues north to Yonkers and beyond. There are plenty of green spaces in-town too, like Central Park and the High Line, a 1.45-mile linear park and rail trail that was built on a one-time spur on the New York Central Railroad.
Estes Park, Colorado
As the primary gateway to Rocky Mountain National Park, Estes Park is a fantastic city for anyone and everyone who loves to hike. The national park – which requires timed entry reservations from late-May through late-October – has more than 350 miles of hiking trails. These hikes range from easy nature walks to more strenuous summit hikes, like the hike to the top of Twin Sisters Peak. Among the most popular hikes are those that lead to alpine lakes, like Emerald Lake and Dream Lake. Post-hike, stroll the mile-long Riverwalk through downtown Estes Park, then stop for a craft brew at The Barrel, a popular outdoor beer garden.
Portland, Oregon
The vibrant and quirky city of Portland is known for coffee, craft beer, live music, and yes, outdoor recreation, like hiking, biking and paddling. Its close proximity to the Columbia River Gorge, as well as the Cascade Range, allows hikers access to gorgeous scenery, stunning waterfalls and mountain panoramas. In-town, there are hiking trails too, like at Forest Park, which boasts more than 80 miles of trails and is one of the country's largest urban forests. Portland is also an easy drive to Mount Hood, the tallest mountain in Oregon. For a post-hike pint, more than 70 craft breweries call Portland home, including Culmination Brewing and Ruse Brewing.
Boston, Massachusetts
Boston may not be known for rugged terrain and high peaks, but an abundance of green spaces, nature reserves and local parks make Boston a great city for hikers. The nature trails at Arnold Arboretum and Blue Hills Reservation offer an escape from the hustle of downtown Boston. Boston is also a short drive from the Berkshires in western Massachusetts, which boasts hiking trails, lake strolls and walks to waterfalls, like Bash Bish Falls and Campbell Falls. There are mountains too, like Mount Greylock, which is the highest point in Massachusetts at nearly 3,500 feet tall, and even stretches of the iconic Appalachian Trail.
Phoenix, Arizona
Phoenix is surrounded by several rugged mountain ranges, including the McDowell Mountains and Phoenix Mountains. At just 2,706 feet tall, Camelback Mountain is the area's tallest peak, and offers mesmerizing panoramas from the rocky summit. Two urban routes lead to the top, including the Cholla Trail from the east and the Echo Canyon Trail from the north. Interestingly, the trailhead for the Cholla Trail is only five minutes from Scottsdale Fashion Square, one of the area's premier shopping malls with boutiques, restaurants and a movie theatre. A downloadable trail guide created by Visit Phoenix identifies area hiking trails by location, length and difficulty level.
Durango, Colorado
Durango is nestled into the southwestern corner of Colorado, surrounded by the dramatic San Juan Mountains. The area boasts some 300 miles of hiking trails and a variety of stunning landscapes, from verdant forests and alpine meadows to soaring peaks and high deserts. There are lots of wildly scenic hikes for all fitness levels, including the hike to the top of Castle Rock, which stands proud at 10,397 feet tall. Soak up the views for miles. Post-hike, get to know this lively mountain town with a stroll across historic downtown Durango, which is home to the famed Durango & Silverton Narrow Gauge Railroad and Mesa Verde National Park.
Knoxville, Tennessee
Thanks to its proximity to Great Smoky Mountains National Park, which is less than one hour by car, there are plenty of opportunities to get outside for a hike in Knoxville. The national park alone has more than 800 miles of hiking trails, including 71 miles of the iconic Appalachian Trail. Mere minutes from downtown, there are lots of green spaces, historic parks and natural areas, like House Mountain State Natural Area, which features big views across working farms from east and west overlooks. Area trails also lead to quarry lakes, mountain streams and colorful dogwood trees. After your hike, cool off in the fountains at World's Fair Park.
Bend, Oregon
Bend is known for award-winning craft beers, the very last Blockbuster store and an abundance of scenic hiking trails thanks to its location near the stunning Cascade Mountains. One short, rugged trek leads hikers along the Scout Camp Trail to gorgeous canyon views. Mount Bachelor, Pilot Butte and Broken Top are among the peaks that attract hikers eager for far-reaching summit views. Waterfall hikes are also tops in Bend, including trails that lead to tumbling Benham Falls and Tumalo Falls. Post-hike, sample brews across town on the Bend Ale Trail or relax in a tube as you gently float along the Deschutes River.
The-CNN-Wire™ & © 2023 Cable News Network, Inc., a WarnerMedia Company. All rights reserved.