Crackdown on crimes on Las Vegas Strip: What tactics are working?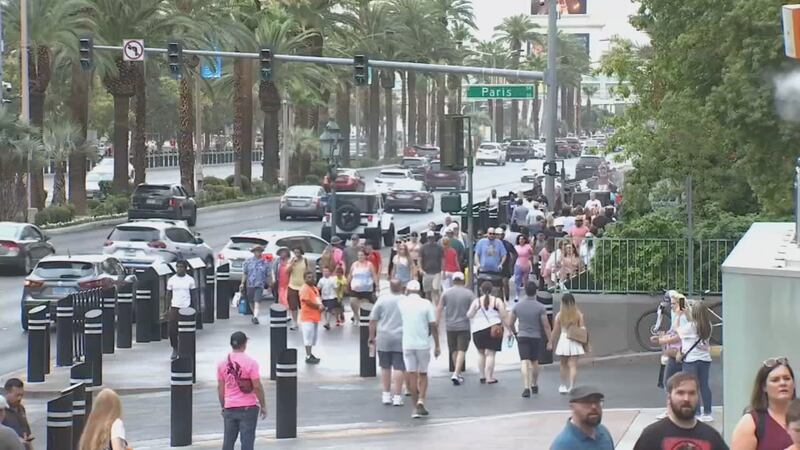 Published: Aug. 29, 2023 at 7:53 AM PDT
LAS VEGAS, Nev. (FOX5) - The Las Vegas Metropolitan Police Department gave FOX5 insight into what's being done to crack down on crime across the Strip and keep millions of tourists and tens of thousands of local workers safe.
LVMPD's Las Vegas Convention Center Area Command has seen double-digit drops in crime from last year, from theft (-16.6%), aggravated and simple assaults (-18.3%), robberies (-23.8%) and burglaries (-28.8%). According to officials, more investigations have led to a rise in arrests in individuals with drug offenses and weapons violations. Police tell FOX5 they track trends week-by-week to see what other areas or crime trends need more patrols or intervention for prevention.
Captain Stephen Connell of Las Vegas Convention Center Area Command gave FOX5 insight into what's been critical to the progress of decreasing crime on the Resorts Corridor.
County officials have been analyzing the effectiveness of the "Order Out" Corridor: A judge can order certain criminals to stay away from an expanded west of the Strip. Penalties rose to up to six months in jail and up to a $1,000 fine.
"The 'order out' is for habitual or chronic offenders on the Strip. They come to the strip not to eat, not to gamble, but strictly when they're there, they're engaging in criminal activity. If they don't come back, It's a win for us. If they do come back, there are those additional sanctions that are imposed by the court. It's been a powerful tool for us," Connell said.
The Order Out ordinance was one of several efforts implemented in 2022, after an uptick in crimes and homeless. After a suspect stabbed numerous showgirl impersonators, LVMPD and homeless outreach teams ramped up visibility, pedestrian bridge patrols and intervention to offer resources to homeless persons. Earlier that year, a suspect attacked and killed an off-duty police officer who was visiting the Las Vegas Strip.
"After some of those tragic things that happened... we needed to shift the focus of what we were doing. That was where we turned to be more proactive and actually seek out these dope dealers, gang members, pimps, career criminals before they actually offend out there," Connell said.
Proactive measures meant more visibility: police created a mobile booking station outside Planet Hollywood that pops up on Fridays and Saturdays. "That visible presence claims that ground. So for that whole stretch of Bellagio, down past Cosmopolitan up to the Flamingo, that presence -- there's not much that goes on when we're out there like that. The same thing applies for officers on foot patrol. If you're walking, if you're stopping to talk to somebody in the mid-block, you've claimed that block. The more cops doing that, the less crime is going to happen. If crime does happen, you're in a position to take action on it. We're using other Intel to make stops on people before they actually offend," Connell said, also noting use of street surveillance with cameras.
Connell also implemented an Edged Weapon initiative: when a suspect who is a violent offender is being investigated for particular crimes, police seize weapons that they have on them. Police have photos of the weapons, which range from large knives to an axe.
"It's a deadly weapon. There have been probably over 350 or so arrests. To date, we only have two stabbings on the Strip. Neither involve tourists and in both incidents, the victim knew the suspect. We see it actually play out with real-world results," Connell said.
It's up to resorts to patrol what happens on their properties, but Connell said quick communication from properties, as well as their surveillance and intel has been crucial to solving crimes. After Caesars released this surveillance video, Connell said a suspect was quickly apprehended.
Copyright 2023 KVVU. All rights reserved.