Las Vegas, Nevada officials discuss crackdown on fentanyl, xylazine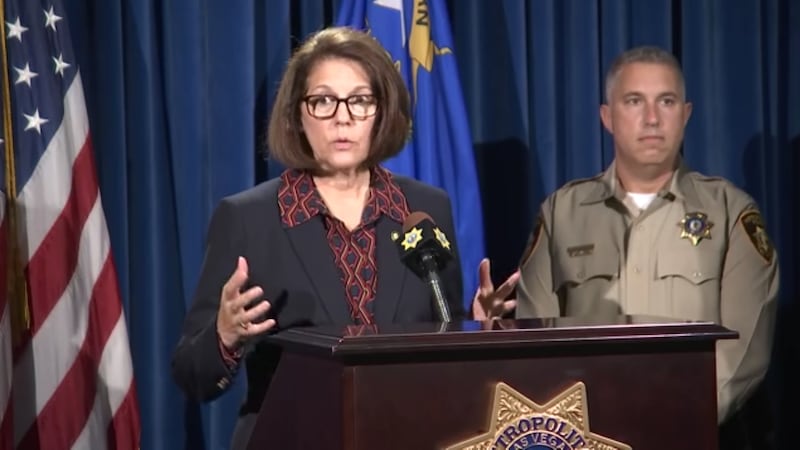 Published: Aug. 28, 2023 at 2:00 PM PDT
LAS VEGAS, Nev. (FOX5) - On Monday, US Sen. Catherine Cortez Masto (D-NEV) and Las Vegas Metropolitan Police Department Deputy Chief Nick Farese gave a community update on efforts to combat fentanyl trafficking and illicit use of xylazine.
Cortez Masto and LVMPD members called for the passage of her bipartisan legislation increasing efforts to curb the use of xylazine and the FEND Off Fentanyl Act to stop transnational drug trafficking.
"I've been working with Metro and agencies across Nevada to get our law enforcement the resources they need to crack down on the flow of deadly drugs into our neighborhoods," said Cortez Masto. "I will keep fighting to raise awareness in Nevada about the dangers of these illicit drugs and pass bipartisan legislation to support our local law enforcement, get fentanyl and xylazine out of our communities, and protect our families."
Xylazine, also known as "tranq" is an easily accessible veterinary tranquilizer being used as a low-cost cutting agent, according to the Drug Enforcement Agency.
It can cause depressed breathing and heart rate, unconsciousness, necrosis, and death - and naloxone or Narcan does not reverse the effects as it's not an opioid.
The act targeting xylazine would include:
Classifying its illicit use under Schedule III of the Controlled Substances Act;

Enabling the DEA to track its manufacturing to ensure it is not diverted to the illicit market;

Requiring a report on prevalence, risks, and recommendations to best regulate illicit use of xylazine;

Ensuring all salts and isomers of xylazine are covered when restricting its illicit use;

Declaring xylazine an emerging drug threat.
"This year we've already seen over 450 overdose deaths in Clark County, and 50% of those have involved fentanyl," said Nick Farese, Deputy Chief of the Investigative Services Division for the LVMPD. "This crisis is impacting families across Southern Nevada and on behalf of LVMPD, we would like to thank Senator Cortez Masto for helping share this public safety message and supporting us in the ongoing fight against illicit narcotics."
Copyright 2023 KVVU. All rights reserved.