Downtown Container Park Maui benefit postponed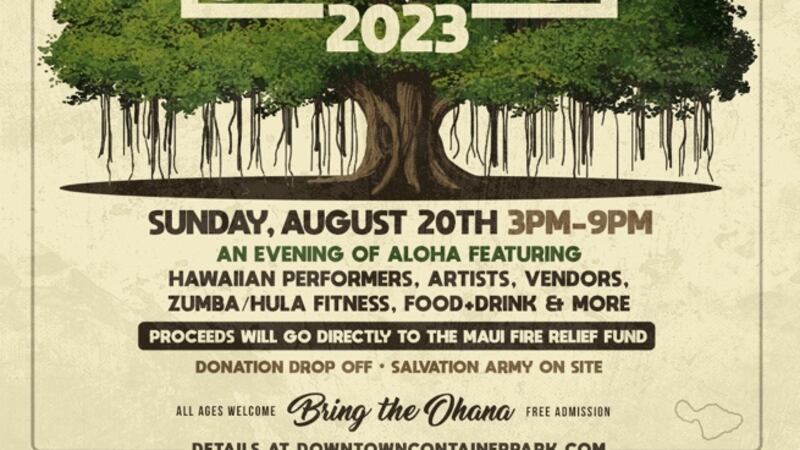 Published: Aug. 14, 2023 at 5:19 PM PDT
UPDATE: On August 17, the event was postponed due to predicted inclement weather this weekend. It was rescheduled for Sunday, August 27.
LAS VEGAS, Nev. (FOX5) - The Downtown Container Park announced that it will host a community fundraising event to honor the victims of the Maui fires.
In partnership with the Las Vegas AAPI Chamber and Mahalo-Halo Las Vegas, Container Park will host "9th Island Love For Lahaina," a Maui Strong fundraising event and benefit, on Sunday, August 20 from 3 p.m. to 9 p.m. According to a media release, guests of Container Park and Las Vegas community members are invited to "an evening of aloha featuring a variety of local vendors like Vintaged LV and Les Kekahuna, over a dozen live entertainers, Hawaiian food trucks lining the block and more."
Partial proceeds from sales made during the event will benefit various organizations providing services to those affected by this tragedy, including the Maui Fire Relief Fund, Salvation Army and Maui Food Bank. The afternoon's entertainment will forgo performance fees.
Embracing the island spirit, Container Park's stage will host an array of entertainers beginning at 3 p.m. including appearances by Bounce & Lady Reiko, Desiree & LeeHuh, BTR Kids Breakin', Melody Rosa, Inafa'Maulek, Creed Chameleon, Hypnotiques, Mahi, Kennedy King and Sugatone.
"Las Vegas is home to a large Hawaiian population and we take our designation as the '9th Island' seriously," said James Gonzales, Container Park General Manager. "The Hawaiian community here has always been a big part of Container Park's success so hosting this event and helping any way we can is very important to us."
Entry to this all-ages event is free. Clothing drop-off and additional donation opportunities will be available. For more information, please visit www.downtowncontainerpark.com.
Copyright 2023 KVVU. All rights reserved.