Why cell phone service is down in Maui — and when it could be restored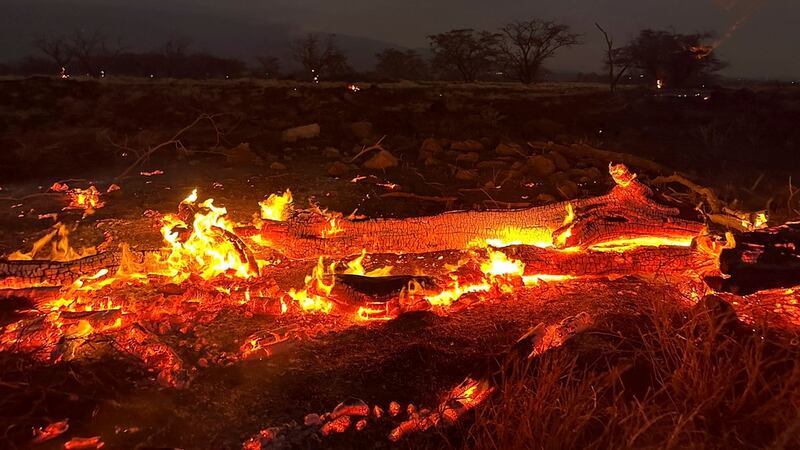 Published: Aug. 10, 2023 at 8:37 AM PDT
By Samantha Murphy Kelly, CNN
(CNN) — Thousands of people in Maui are without cell service as the wildfires continue to rage out of control on the island, preventing people from calling emergency services or updating loved ones about their status. It could take days or even weeks to get the networks back up and running.
"911 is down. Cell service is down. Phone service is down," Hawaii Lt. Gov. Sylvia Luke told CNN on Wednesday morning.
Although strong winds can sometimes threaten cell towers, most are strong enough to handle the worst that even a Category 5 hurricane can bring. Fire, however, complicates the issue.
"When the fires get too close to cell sites, they will obviously burn equipment, antennas, and feedlines," said Glenn O'Donnell, VP of research at market research firm Forrester. "In extreme cases, they will also weaken the towers, leading some to collapse. The smoke and flames can also attenuate signals because of the particulate density in the air."
If a tower collapses, cell networks could take months to restore. But if carriers are able and prepared to do restorations with mobile backup units, it could bring limited service back within hours, O'Donnell said. Wireless carriers often bring in COWs (Cells On Wheels), COLTs (Cells On Light Trucks), and GOaTs (Generators on Trailers) in emergencies to provide backup service when cell towers go down.
Power outages are also a threat to cell phone towers. The Maui disaster has already wiped out power to at least 14,000 homes and businesses in the area, according to PowerOutage.us. Many towers have backup power generators, but they have limited capacity to keep towers running.
Cell towers have back-up technology built in, but this is typically done through optical fiber cables or microwave (wireless) links, according to Dimitris Mavrakis, senior researcher at ABI Research. However, if something extraordinary happens, such as interaction with rampant fires, these links may experience "catastrophic failures and leave cells without a connection to the rest of the world."
And, in an emergency, a spike in call volume can overload the system – even if people are able to get reception.
"Even cells that have a good service may experience outages due to the sheer volume of communication happening at once," Mavrakis said. "Everyone in these areas may be trying to contact relatives or the authorities at once, saturating the network and causing an outage. This is easier to correct though and network operators may put in place additional measures to render them operational quickly."
A T-Mobile spokesperson said its cell sites are "holding up well during the fires" but commercial power outages may be disrupting the service for some customers. "As soon as conditions allow, our priority is to deploy teams with portable generators that will bring temporary power back to our sites," the spokesperson said.
An AT&T spokesperson told CNN it is assessing the' impact to its wireless network and "will continue to coordinate closely with local utility companies on restoration progress." The company is waiving talk, text and data overage charges during this time.
Verizon did not immediately respond to CNN's request for comment.
The hope of satellite networks
Satellite networks, however, continue to operate regardless of what's happening on the ground. This means satellite phones, which often feature large antennas, can help provide voice, SMS, and data services anywhere on Earth, even without cell service.
Satellite phones have been popularized over the years by hikers, emergency responders and intrepid travelers, but they are are expensive and are not mainstream products. However, some newer smartphone models – including the latest model iPhone 14 and some phones built by Motorola and Huawei – offer built-in satellite connectivity, which allows the sending of SOS messages via satellites.
Apple's free Emergency SOS via satellite service has already helped at least one family get in contact with first responders during the Maui wildfires. The service, which launched last year, allows iPhone users to contact dedicated dispatchers in emergency situations via satellites. When a user attempts to call 911 and is unable to get on a cell network, they will be automatically redirected to the service's dispatchers where they can answer a questionnaire with short multiple choice questions to share information quickly. The dispatchers also receive their coordinates, medical ID and emergency contact information.
Apple told CNN the feature is reserved for connections to emergency services and does not allow users to contact friends and family. For anyone who has access to a Wi-Fi connection while wearing an Apple Watch, the Walkie-Talkie feature could also be used to send messages or make calls. However, Wi-Fi networks can also fail when optical fiber networks are disrupted.
Although it's unclear how long cell phone service could be down in affected regions, companies have been able to bring connectivity to disaster regions in the past. In 2017, Google worked with AT&T and T-Mobile to deploy its Project Loon balloons to deliver Internet to Puerto Rico in the aftermath of Hurricane Maria.
Hawaii's Red Cross recently tweeted that people can call 1-800-RED-CROSS to see if their loved ones are at a local shelter.
The-CNN-Wire
™ & © 2023 Cable News Network, Inc., a Warner Bros. Discovery Company. All rights reserved.