York Fire crosses state line from California into Nevada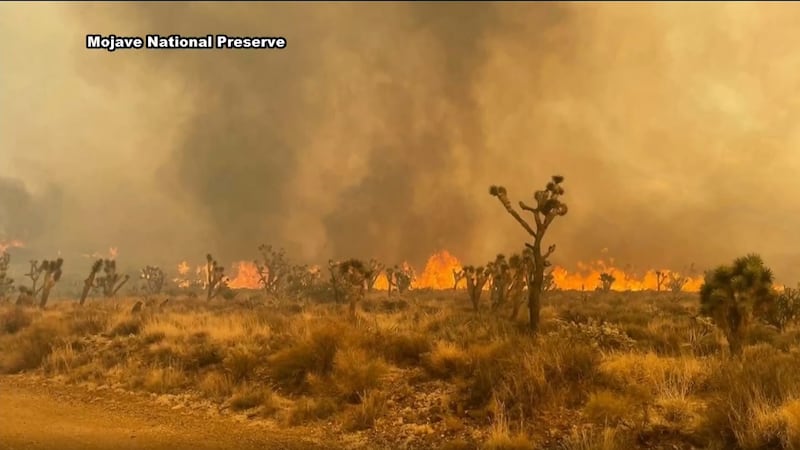 Published: Jul. 30, 2023 at 5:53 PM PDT
LAS VEGAS, Nev. (FOX5) - The York Fire has crossed the state line from California into Nevada, according to a 3:30 p.m. update Sunday from the National Park Service.
As of 1:30 p.m. Sunday, the York Fire had burned 70,000 acres with no containment.
The York Fire started Friday in the Mojave National Preserve in San Bernadino County, California. A park service employee noticed smoke in the area around noon Friday.
Park rangers said dry brush and high winds are fueling the flames.
"I would say it's definitely fast-moving, especially when the winds come in and push it, it makes it extremely challenging conditions," said Mojave National Preserve spokesperson Stephanie Bishop.
More than 200 personnel from multiple agencies worked the York Fire on Sunday, including the National Park Service, Bureau of Land Management, San Bernadino County Fire Protection District. Additionally, now that the fire has crossed the Nevada state line, Clark County fire crews are standing by, ready to protect residential areas.
"We have to go into a unified motion, working with another state agency, working closely with them to make sure we have good communication with each other," said Bishop.
The Clark County Fire Department set up a mobile command near Searchlight and Nipton, ready to protect residents in those areas. A Clark County spokesperson Sunday night said at this time, the fire is burning in a desert area of Nevada, and residential areas are still some ways away.
Bishop said one advantage of this multi-agency approach is that each agency has their own specialized knowledge of their own area, which they can share to help with firefighting efforts and keep firefighters safe in unfamiliar territory.
"They kind of know what can be expected or what might be occurring in that area," said Bishop, "and that might be good intel that we can share across the board of 'Be prepared for this, watch for this.'"
No evacuations orders are in place, although Bishop said a few California residents chose to evacuate on their own.
Copyright 2023 KVVU. All rights reserved.