Golden Knights are first team to get Stanley Cup engraved before their summer parties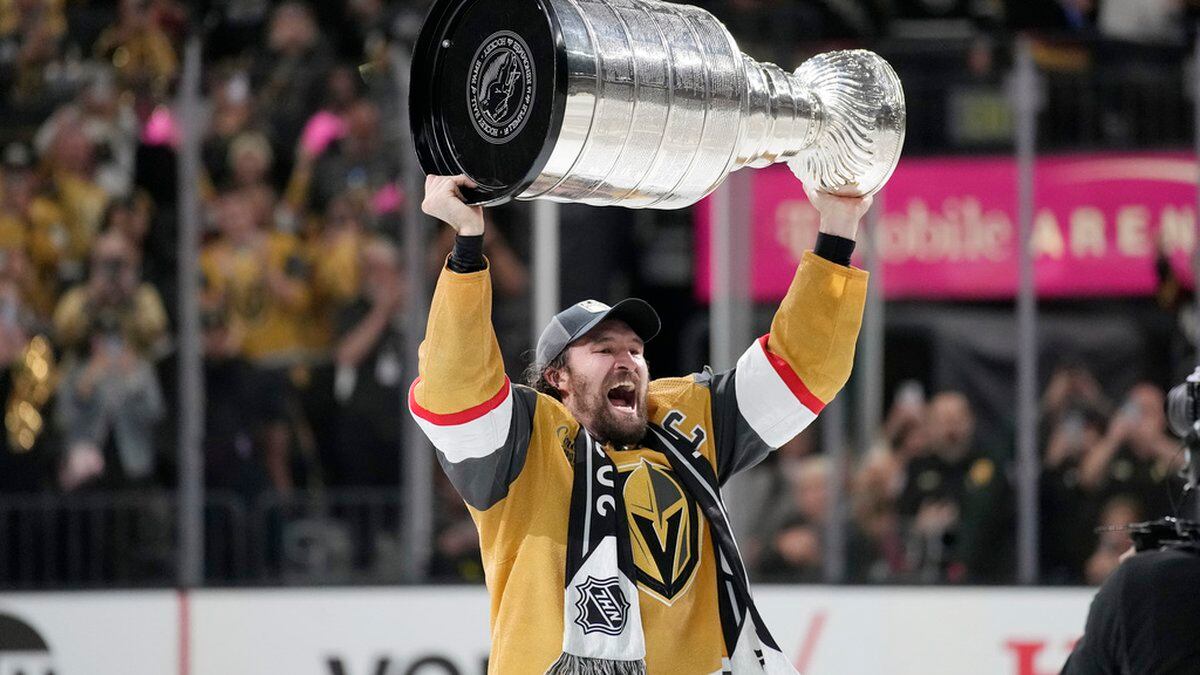 Published: Jul. 5, 2023 at 10:11 AM PDT
(AP) - The Vegas Golden Knights already made history by winning the Stanley Cup for the first time in franchise history, doing so in their sixth NHL season.
Now they're making some more with hockey's hallowed trophy.
The Golden Knights are the first team to have the Cup fully engraved with every champion's name before the traditional summer of owners, staff, coaches and players each getting a day to celebrate with it. Keeper of the Cup Phil Pritchard and the Hockey Hall of Fame would love if this starts a trend.
"Hopefully a tradition has begun!" Pritchard tweeted.
The decision by Vegas' front office, led by the hockey operations department, should provide more photogenic moments on Cup days in the coming weeks and months. From owner Bill Foley down to players, all 52 members of the organization whose names are engraved will get to see that and show it off to friends and family.
Pritchard said the trophy is currently with silversmith Louise St. Jacques at a studio in Old Montreal and the engraving is scheduled to be completed by Saturday. After that, the Stanley Cup's worldwide summer tour will begin.
The Cup is usually engraved in the fall before the annual banner raising. Because the draft was in Montreal last year, "2021-22 Colorado Avalanche" was engraved in July after a quick cleaning.
The tradition of every player getting a day with the Cup began when the New Jersey Devils won it in 1994-95. Many of the players on the previous five title-winning teams hosted it at their houses, but not all of them, and some members of the 1980s Edmonton Oilers, New York Islanders and Calgary Flames champions got it.
Before that, Pritchard said, the trophy mostly stayed in the city of the team who won it for a couple of weeks after the final for the parade and other celebrations.
The Golden Knights' parade down the Las Vegas Strip followed the same route taken by the city's first professional championship team, the Aces of the WNBA in 2022 and was followed by a memorable rally in front of thousands of fans outside their home arena.
It's not clear exactly where the Cup will go first, though coach Bruce Cassidy is scheduled to take it to an elementary school in Milton, Massachusetts, next week.
Copyright 2023 The Associated Press. All rights reserved.