Fourth of July gas prices take an almost unprecedented plunge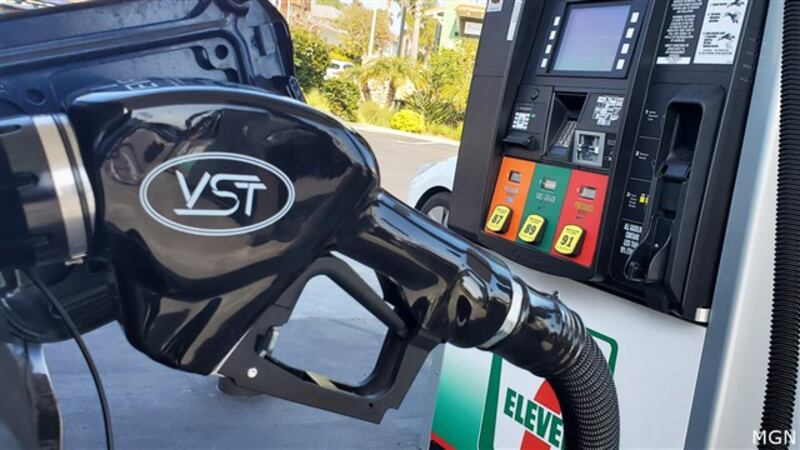 Published: Jun. 30, 2023 at 6:13 AM PDT
By Matt Egan, CNN
New York (CNN) — The roads will be crowded this Fourth of July weekend, but travelers have at least one thing going for them: much cheaper gas prices than last year.
A record-setting 43.2 million Americans are expected to travel by car this holiday weekend, according to AAA. That's 2.4% higher than last Fourth of July.
And yet gasoline prices are much lower. The national average for regular gasoline dipped to $3.55 a gallon on Thursday, according to AAA. A year ago, a gallon of regular sold for an average of $4.87 a gallon.
That kind of price drop is almost unprecedented.
During the week ending June 26, the average gas price was $3.57 a gallon, according to the US Energy Information Administration. That's down by $1.30, or 27%, from the same period last year.
This is the second-biggest one-year price drop in the week before the Fourth of July since EIA data began 33 years ago, according to John LaForge, who leads real asset strategy for the Wells Fargo Investment Institute.
The only bigger 12-month drop occurred during a historic downturn: the Great Recession. Gas prices plunged by $1.45 a gallon, or 35%, between June 30, 2008 and June 29, 2009.
"This is terrific. Gasoline prices are a leading economic indicator for many Americans," said Patrick De Haan, head of petroleum analysis at GasBuddy.
The average motorist is spending $20 less per fill-up than at this point last year, De Haan said.
Although pump prices have retreated from last year's record highs, gas prices were cheaper in the summer of 2021 and certainly in 2020 when Covid-19 shut down large swaths of the economy.
Pump prices plunge in Ohio, California
Still, over the past 12 months, gas prices are down in all 50 states, according to AAA.
Drivers in Indiana have enjoyed the biggest drop in gas prices over the past year, with the state average tumbling by $1.58 a gallon. Other states with big gas price drops include Ohio ($1.48), California ($1.47) and Illinois ($1.47), according to AAA.
The smallest 12-month decline in gas prices was in the state of Washington, where the average is only down by 50 cents a gallon. Washington recently replaced California with the unwanted distinction of having America's most expensive gas prices.
Of course, consumers are still grappling with a high cost of living at the grocery store, when shopping for cars and paying rent.
"Americans have been hit by so many other bullets. They might save at the pump but they are spending more elsewhere," said De Haan.
High inflation elsewhere is a central reason De Haan anticipates gasoline demand over the Fourth of July weekend will be 5% to 10% below 2019 levels. That's despite the fact that AAA expects the number of people driving to their destinations this weekend will be 4% higher than in 2019.
Why gas prices are down
The tumble in gas prices is an undeniable positive for consumers. However, not all the factors behind the drop are encouraging.
After spiking last year, oil prices have plunged in part due to concerns about the Federal Reserve's interest rate hikes slowing the economy into a recession.
Another factor: Despite fears of disruptions, Russia's oil exports have not been derailed by the war in Ukraine or sanctions from the West.
"We believe prices are stuck in the near term," Wells Fargo's LaForge said, "as markets weigh concerns of an expected recession against global supply."
But beyond that, LaForge anticipates the oil market will get tighter and "push prices higher" next year.
One wildcard is the war in Ukraine following the short-lived Wagner uprising in Russia that poses a challenge to Vladimir Putin's grip on power.
So far, the oil market has largely shrugged off the unrest in Russia, with traders betting that country's exports will remain intact.
But GasBuddy's De Haan says Russia remains a source of risk for gas prices.
"The situation is still a bit of a powder keg. It could lead to more explosiveness in oil prices," he said.
The-CNN-Wire™ & © 2023 Cable News Network, Inc., a Warner Bros. Discovery Company. All rights reserved.