One step closer to movie studios being built in Southern Nevada
Published: May. 31, 2023 at 6:55 PM PDT
LAS VEGAS, Nev. (FOX5) - David O'Reilly, CEO of the Howard Hughes Corporation, said his company is spending $700 million to build a movie studio in Summerlin.
"It's about a 60-acre site which will include about 500,000-600,000 square feet of studios, a hotel site, associate office, back office and a retail village," O'Reilly said. Another location is in the works at the Harry Reid technology park.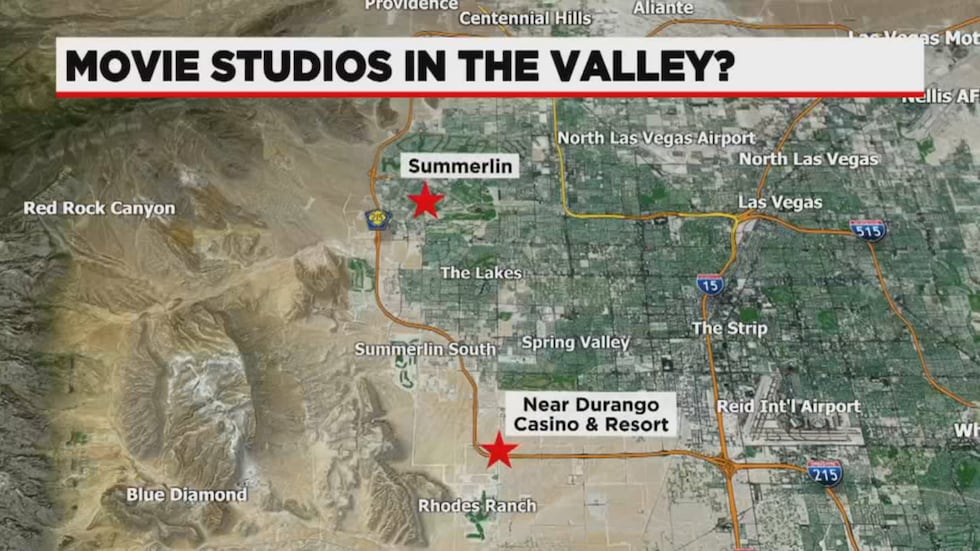 On Tuesday, they were able to go in front of legislators and Governor Lombardo in Carson City.
"We got the incredible opportunity that this bill presents in terms of offering tax credits for those wanting to do film production in southern Nevada," said O'Reilly.
He says the building of these movie studios will be transformative for southern Nevada.
"It's a generational opportunity to transform, grow, and diversify. Part of this is to use $1.5 billion of infrastructure investment to build new studios that will create 10,000 construction jobs. Sony has committed to $1 billion in filming over a 10-year period," he said.
O'Reilly says it won't only create jobs, but it will also teach people how to work with related equipment.
"We're investing in building a training facility with Nevada...to teach these local folks how to be boom mic operators, how to be grips, how to be camera folks," said O'Reilly.
"Those studios will generate 6,800 new permanent careers," he added. There is opposition, as some worry this would take money away from schools, healthcare and other infrastructure in Nevada.
"It's money that doesn't exist today. These are tax credits only earned when that film production spends $633 million here in our state, and that's going to be creating a cascading $2 billion growth across all the industries here," said O'Reilly.
Copyright 2023 KVVU. All rights reserved.