Lucky the Pig: Happy ending for piglet who fell off truck on Las Vegas highway
Published: May. 30, 2023 at 3:32 PM PDT
LAS VEGAS, Nev. (FOX5) - On May 25, Lars Gradel, his work partner Rebecca Zajac and her 7-year-old son Colton were driving west on Interstate 215 when a truck transporting pigs pulled in front of them, and they saw a pig fall out.
"We saw a pig fly out the side of the truck, and he tumbled about 10, 15 times down the side of the freeway," said Gradel.
"I was worried he was really hurt, and then he stood up, and I just yelled, 'Go grab him before he gets in traffic!'" said Zajac.
They wrapped the piglet in a towel and put him in the car.
"He was pretty much in shock, pretty scared," said Zajac.
"We assumed that he would be injured by the amount of tumbles he took on the freeway, and it was going like 60 miles per hour," said Gradel. "But surprisingly, he was okay."
"The vet told us he was probably about 8 to 12, 14 weeks. He was recently weaned from his mom, so he didn't even know how to drink water when we got him or anything like that."
They named him Lucky, and he lived in the Zajac family's backyard for the weekend until they found him a home at All Friends Animal Sanctuary. Luckily, the sanctuary is close by, so Colton and Lucky can play together whenever they want.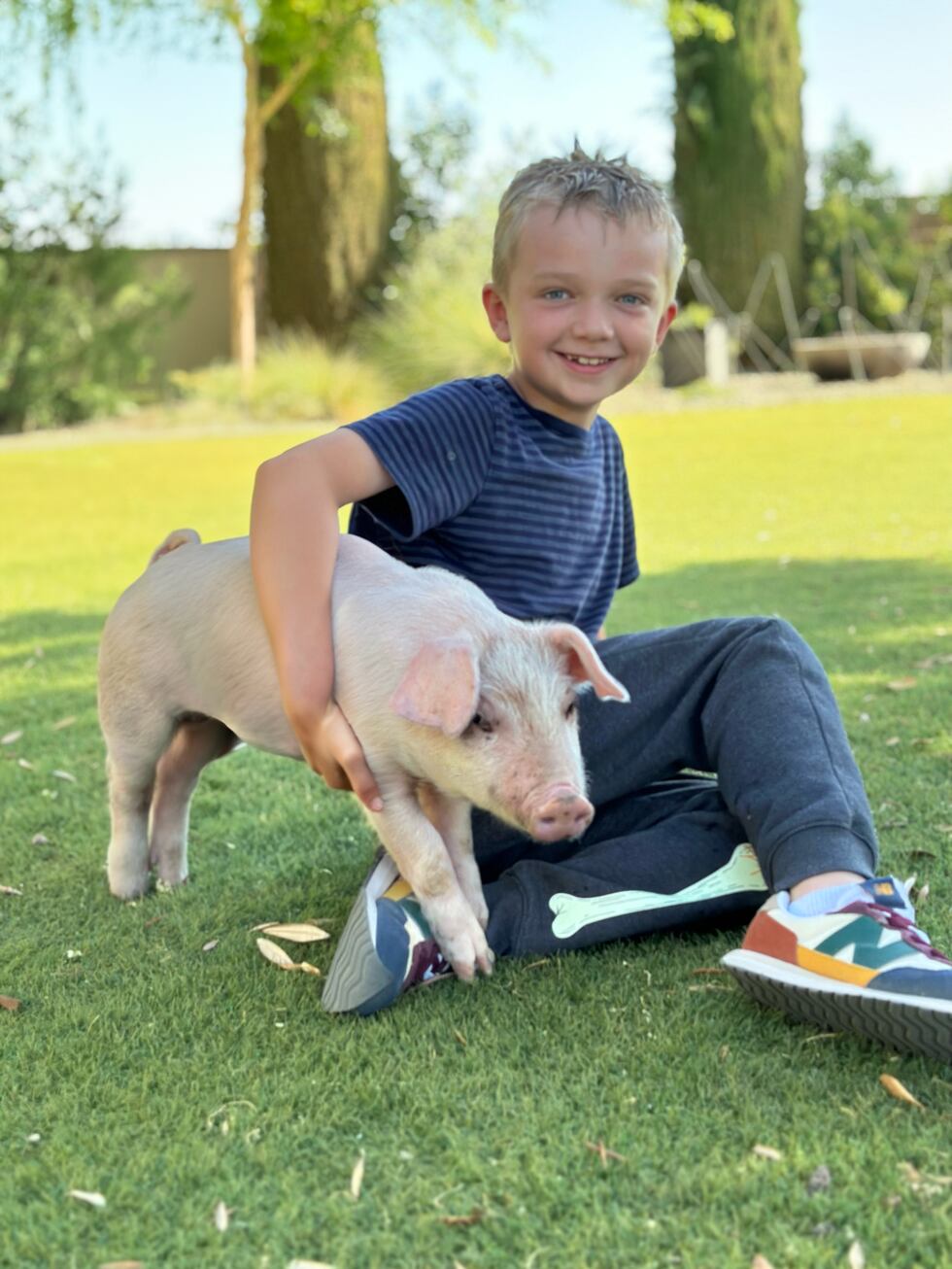 "We built him a quarantine area that's coyote-proof because he's so small, and he is going to be in that quarantine area for probably about five months," said Tara Pike, founder of All Friends Animal Sanctuary.
Eventually, Lucky will need to move to a larger pen.
Currently, he weighs only 18 pounds, but Pike said he could grow up to 700 or 800 pounds, similar to another resident pig at the sanctuary, named Mister Picklesworth. Lucky escaped a dark future, and now he gets to enjoy his days at the animal sanctuary.
"His fate was to go to a fattening facility where he would be fed a lot, and then in about six to eight months, he would've been sent to slaughter," said Pike. "And now Lucky's going to be wallowing in mud and rooting around in the ground and digging little holes with his snout and eating watermelon and popsicles in the summer."
All Friends Animal Sanctuary is a smaller facility than most, but they care for many types of rescue animals, including cows, goats and pigs, which can be costly.
To learn more about the sanctuary or to donate, visit here: https://allfriendsanimalsanctuary.wordpress.com/.
Copyright 2023 KVVU. All rights reserved.