Golden Knights-Panthers Stanley Cup Final will end with a first-time NHL champion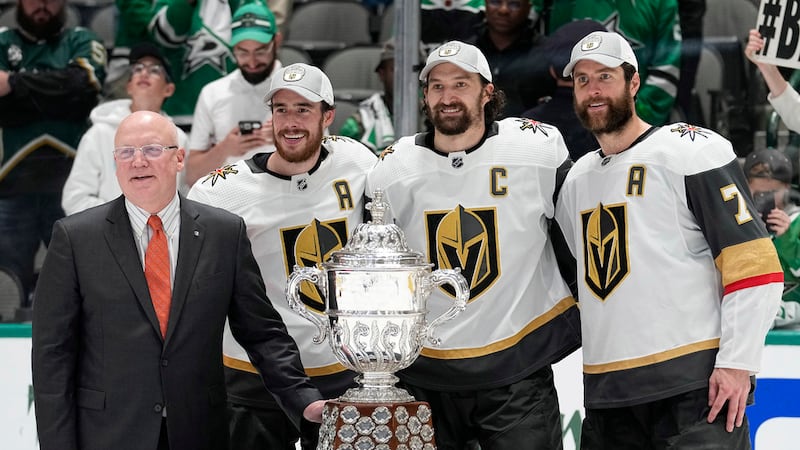 Published: May. 30, 2023 at 11:11 AM PDT
)AP) -- Jon Hamm is excited for this Stanley Cup Final between the Florida Panthers and Vegas Golden Knights.
"Stoked, man," the actor and noted hockey fan said. "I live in L.A., so that's a half-hour flight away for me."
The NHL is pumped, too. Even though the ratings will likely sag without big markets involved, the Sun Belt series will feature two teams that have never before won the Cup. It is also a chance for the league to show off its success growing in the U.S. beyond traditional hockey hotbeds.
"It's so refreshing and it's so amazing," retired player Anson Carter said. "When you constantly hear people saying hockey can't work in the South or the Sun Belt markets, they're wrong."
Carter hears his friends back home in Canada complaining about the NHL not wanting teams north of the border to win championships, and he dismisses it. Canada's Cup drought dating to 1993 isn't the fault of many of the Canada-born executives, coaches and players now working for Vegas or Florida.
"It's not like there's all American folks working for American teams — that's not what it is," said Carter, now an analyst for Turner Sports. "It just so happens that you have these teams in these markets that are having success. It's cyclical, I'm sure, but I think it's great for our game."
Commissioner Gary Bettman has gotten flak over the years for markets like Quebec City (to Colorado) and Hartford (North Carolina) losing their teams. He sees it more as growing the NHL's footprint — something that got the league back on national television in the early 1990s when he took over and expanded hockey into the American South and West.
As Hamm — a St. Louis native and lifelong Blues fan — pointed out, none of the four cities in the conference finals had a team when he began watching the sport in the 1970s. This trend has not come out of nowhere: With Hamm's Blues being one of the exceptions, 11 of the last 18 teams in the Stanley Cup Final are in a market that did not have a team before 1991.
St. Louis beat Boston in the 2019 final, and Bruce Cassidy is back as coach of Vegas after being on the losing end four years ago with the Bruins.
"I've been there once, and it didn't work out," Cassidy said after his Golden Knights beat the Stars in Game 6 of the West final on Monday night. "It's what you want, but so do 31 other teams, right? And only two get to go there. ... You have to enjoy these moments."
Fans in South Florida certainly are. While Vegas is in the final for the second time in its six seasons of existence, the Panthers are back for the first time in 27 years after sweeping Carolina in the East final.
Tickets on the secondary market were going for over $400 as of Tuesday morning. Brett Goldberg, CEO of the online marketplace Tickpick, said there are benefits to having teams in nontraditional markets get this far because fans want to come out for a special occasion.
"The demand for these events now, it's almost new," he said. "Viewership-wise maybe you take a hit by not having the New York and the California markets, but this is what builds franchises. And so, long term it's certainly a good thing."
STARS SHINING
The only thing hotter than the weather in Las Vegas and South Florida is Panthers goaltender Sergei Bobrovsky, who has won 11 of his past 12 games, stopping 438 of 465 shots for a 1.95 goals-against average and .942 save percentage. He has not allowed a goal in nearly 100 minutes of overtime this postseason.
"Their goaltender's playing well," Vegas captain Mark Stone said. "We're going to have to find ways to try and get to him."
Also playing well for the Panthers is Matthew Tkachuk, who has four game-winning goals — so far — and fired-up celebrations worthy of his status as a playoff MVP contender.
In the NHL postseason for the first time in his career, Jack Eichel leads the Golden Knights in scoring with 18 points. But he was held without a goal the entire Dallas series, so Jonathan Marchessault took over with a team-high seven points to get back in the final.
HISTORY MADE?
This is the first final since 2018 — and just the third since the turn of the century — featuring two franchises that have yet to win the Stanley Cup. Five years ago, the Golden Knights made it in their inaugural season before losing to Washington.
Six players remain from that Vegas team: Marchessault, William Karlsson, Reilly Smith, William Carrier, Shea Theodore and Brayden McNabb.
If Bobrovsky and Adin Hill each start in Game 1, it will be the first time since 1969 that both teams open the final with a different goaltender than they started the playoffs with. Alex Lyon was Florida's first starter against Boston before Paul Maurice went back to "Bob," while Laurent Brossoit was in net for Vegas' first eight games before being lost to injury.
Copyright 2023 The Associated Press. All rights reserved.