Steve Bannon's trial in 'We Build the Wall' scheme set for May 2024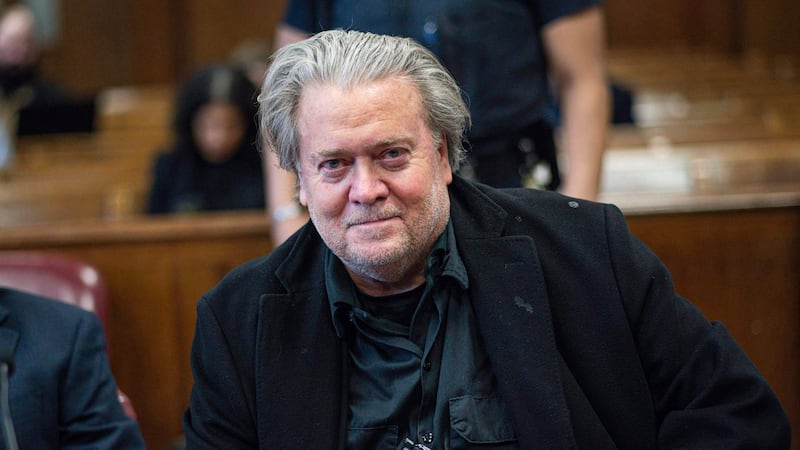 Published: May. 25, 2023 at 8:05 AM PDT
|
Updated: May. 25, 2023 at 1:10 PM PDT
NEW YORK (AP) — Steve Bannon, the conservative strategist and longtime ally of former President Donald Trump, will stand trial next May on charges that he duped donors who gave money to build a wall along the U.S. southern border, a judge said Thursday.
Judge Juan Manuel Merchan set Bannon's trial in the "We Build the Wall" case for May 28, 2024, amending his calendar after realizing that the date he announced in court — May 27 — is next year's Memorial Day holiday, when courts will be closed.
If the schedule holds, Bannon will stand trial soon after Trump is slated to do so in the same Manhattan courtroom in an unrelated criminal case.
Bannon, 69, pleaded not guilty last September following his indictment on state money laundering, conspiracy, fraud and other charges. Manhattan District Attorney Alvin Bragg took up the case after Bannon's federal prosecution was cut short by a Trump pardon. Presidential pardons apply only to federal crimes, not state offenses.
Bannon is accused of falsely promising donors that all money given to the We Build the Wall campaign would go toward building a wall along the U.S.-Mexico border. Instead, prosecutors allege that the money was used to enrich Bannon and others involved in the project.
Brian Kolfage and Andrew Badolato pleaded guilty to federal charges and were sentenced to prison. A third defendant, Timothy Shea, was convicted in October and is scheduled to be sentenced next month.
Merchan is presiding over both the Bannon and Trump cases. Bannon is free pending trial. Thursday's hearing lasted all of four minutes.
"We'll see you back in here in May," Bannon said as he left the courthouse in a black SUV.
__
Follow Michael Sisak on Twitter at twitter.com/mikesisak and send confidential tips by visiting https://www.ap.org/tips/.
Copyright 2023 The Associated Press. All rights reserved.