Golden Knights joins Rangers, Blues for historic NHL playoff starts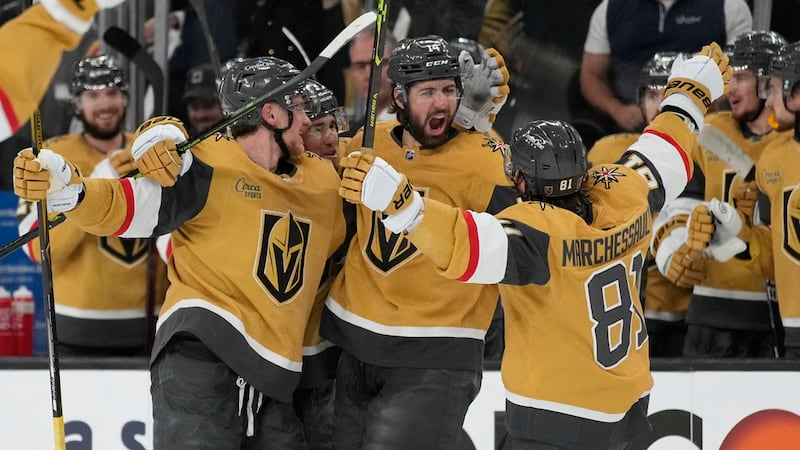 Published: May. 16, 2023 at 9:22 AM PDT
LAS VEGAS (AP) — The Vegas Golden Knights have been making history since they broke into the league, and they made some more Sunday night.
In defeating Edmonton 5-2 to win their playoff series in six games, the Golden Knights became the third team in NHL playoffs history to make the conference final four times in their first six seasons.
The New York Rangers advanced at least that far their first seven seasons (1926-27 to 1932-33) and won the Stanley Cup twice. The St. Louis Blues made it four of their first five seasons (1967-68 to 1971-72).
"I think Vegas is the most impressive of those," Ontario-based hockey historian Eric Zweig said. "The fact that they've had to do it in a salary-cap era with a 32-team NHL and they've still done it. They've even had a couple setbacks. They haven't just been onward and up. I still don't know how they did it the first year. That's miraculous to me that they actually kept up that 100-point pace all year long and made the Stanley Cup Final."
The major hole in the Knights' resume is not winning the Stanley Cup, and they haven't been back to the championship round since losing in five games that first season to Washington.
That team dubbed itself the "Golden Misfits," and three of the remaining players from that club scored all five goals in the clincher against the Oilers.
"It's been a roller coaster of a six years for sure," said Jonathan Marchessault, who had a natural hat trick Sunday. "I'm definitely really proud of that (Misfits) term. It was something that we started, and we were a bunch of nobodies. We have six left right now, and we definitely still have a chip on our shoulder."
Dallas will stand in the Knights' way of reaching the cup final when the Western Conference-deciding series begins Friday in Las Vegas.
Even if the Knights fall short, what they have accomplished is nothing short of remarkable, even at a time when expansion rules were loosened to give them, and the now second-year Kraken, more of a chance to win.
But the Rangers and Blues had their advantages as well.
New York and two other teams were expansion entrants in 1926 as the NHL became a 10-team league.
When St. Louis entered in 1967, the league doubled its size to 12 teams by adding a new division made up only of first-year clubs. An expansion team would make the postseason by default, the Blues appeared in the Stanley Cup Final each of their first three seasons before losing each time.
"It was an impressive feat for the Rangers," Zweig said. "It's a slightly less impressive feat for the Blues, though they were the team that did it. Nobody else did. They came in cheap and had to build the old-fashioned crappy way, except the fact that there were only six NHL teams and dozens and dozens and dozens of top players buried in the minors for years. So they had a decent field to build their team from, but they still built the best one."
Copyright 2023 The Associated Press. All rights reserved.