Victim in shooting at Las Vegas middle school was campus monitor; no kids hurt
Published: May. 8, 2023 at 12:53 PM PDT
|
Updated: May. 8, 2023 at 4:27 PM PDT
LAS VEGAS, Nev. (FOX5) - Las Vegas Metropolitan Police and Clark County School District Police responded to a shooting at Ed Von Tobel Middle School Monday afternoon.
The shooting was reported at 12:38 p.m. Monday in the 2400 block of N. Pecos Road. LVMPD said an adult male staff member was struck by gunfire and taken to University Medical Center. The Education Support Employees Association confirmed that the staff member was a campus monitor.
According to a job description by Clark County School District, a campus monitor helps ensure school safety by patrolling the school.
The school sent the following letter to school families:
The safety of our students is the number one priority at Von Tobel Middle School. As always, we want to keep you informed of important issues happening within our school community. The school has been placed on a hard lockdown due to a police investigation. Students are safe in their classroom. We will provide additional updates as information becomes available.
At least three schools in the area were on lockdown, including two nearby elementary schools. Police said there appears to be no additional threat at this time. The suspect is still outstanding.
In a later update, Las Vegas police said the "school has been cleared by law enforcement and there are no additional injuries at this time. CCSDPD is coordinating a controlled release of students" at the normal dismissal time of 2:16 p.m. Students that ride the bus will be taken to their assigned stops, but there will be delays.
"This will be a slow process," the school wrote in a message to families. "We are asking parents to continue to be patient."
Capt. Noel Roberts, Northeast Area Command, LVMPD, said that the department's partnership with CCSD police and Nevada State Police "really paid off today."
"Our training is working," he added.
In a brief media conference at approximately 2:20 p.m., the Captain explained that officers set up a perimeter, entered the school and confirmed that all students were safe. He added that responding police confirmed that it was "not an active shooter, but an isolated incident."
The Clark County Education Association issued the following statement:
Clark County School District Superintendent Dr. Jesus F. Jara issued a statement Monday afternoon that confirmed the victim in the shooting was a staff member at the school.
"Thankfully, no students were injured in today's incident at Von Tobel Middle School, and our hearts are with our staff member and their family as we pray for a speedy recovery," Dr. Jesus Jara said in the statement.
LVMPD advised that the suspect is still outstanding, and police advise people to avoid the area if possible.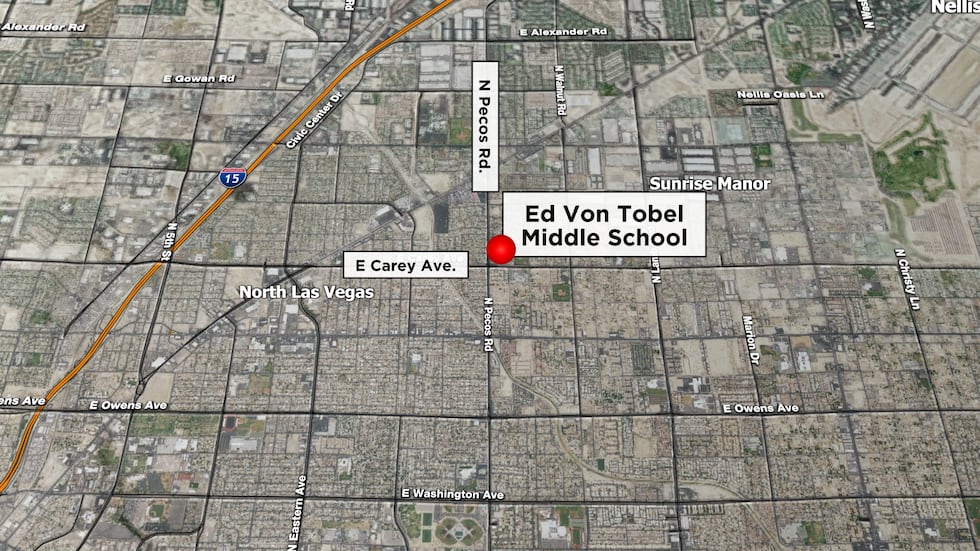 This is a developing story. Check back for updates.
Copyright 2023 KVVU. All rights reserved.