All-you-can-eat buffet restaurants are back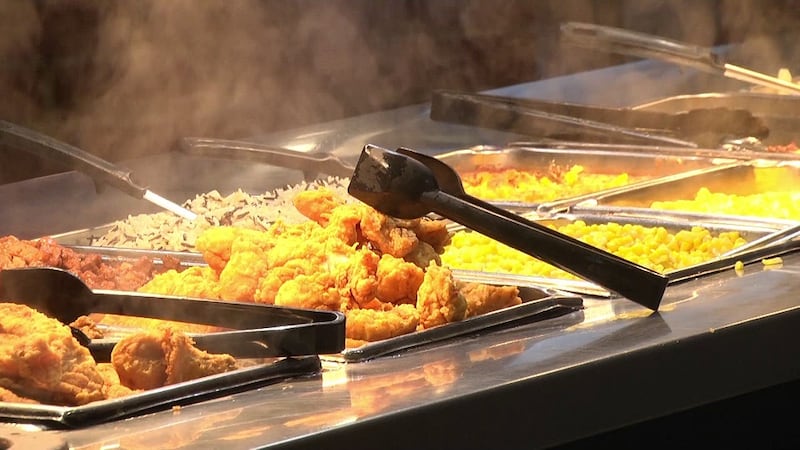 Published: May. 8, 2023 at 7:23 AM PDT
By Nathaniel Meyersohn, CNN
(CNN) -- The Covid-19 pandemic crushed all-you-can-eat buffets.
The owner of Old Country Buffet and Furr's Fresh Buffet filed for bankruptcy in 2021. About the same time, so did Cicis and the owner of Souplantation and Sweet Tomatoes. Operators cited occupancy restrictions, bans and health concerns. But now buffets are making a comeback.
In March, visits to three leading buffets — Golden Corral, Cicis, and Pizza Ranch — were up 125% from January of 2021, according to data from Placer.ai, which tracks foot traffic at restaurants and stores.
That figure outpaced the growth of visits to fast-casual chains and full-service restaurants during the period, according to Placer.
"The higher quality concepts that stuck it out are reaping some rewards, like Golden Corral and Pizza Ranch," said Jonathan Maze, the editor-in-chief at trade publication Restaurant Business Magazine.
Golden Corral's sales grew 14% last year from pre-pandemic levels, according to Nation's Restaurant News.
"People wanted the buffet back," Golden Corral CEO Lance Trenary told the trade publication. The company plans to add up to 250 more Golden Corral buffets around the United States over the long run.
Buffets are growing again in part due to financial strains on consumers.
The median household income of Golden Corral, Cicis and Pizza Ranch customers is below the national average, according to Placer.
Inflation has pushed more middle-class and lower-income customers to buffets, analysts say.
"It shows that people are looking for value," said R.J. Hottovy, the head of analytical research at Placer.
The buffet comeback started in March 2022 as food prices began to climb, he said.
Restaurant prices increased 8.5% in April from a year ago, according to the latest data from the Bureau of Labor Statistics.
That has forced customers to make trade-offs.
More shoppers are also visiting dollar stores and buying at cheaper fast-food chains, including middle-income shoppers.
Dollar General said last year that it has been attracting customers earning $100,000 a year in recent weeks. Inflation has pushed up prices for groceries and these shoppers have turned to Dollar General and others to try to save money.
The-CNN-Wire™ & © 2023 Cable News Network, Inc., a Warner Bros. Discovery Company. All rights reserved.