Never give up: 3-legged dog on the run for 246 days finally back home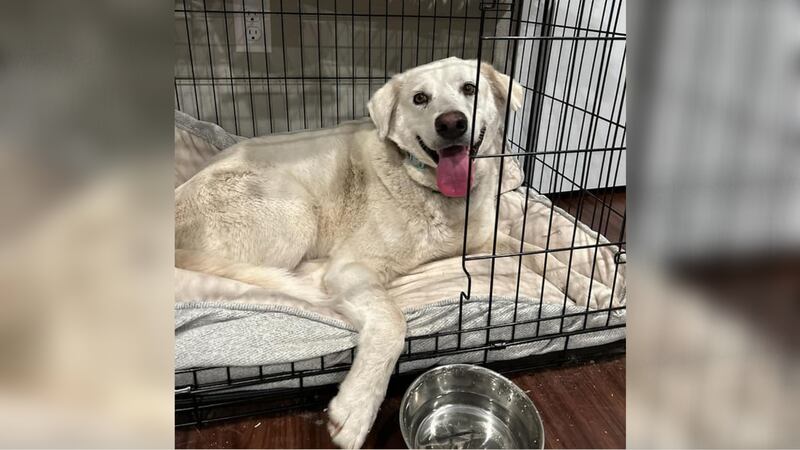 Published: May. 3, 2023 at 1:37 PM PDT
IOWA CITY, Iowa (KCRG/Gray News) – A three-legged dog is back home safe with his owners after 246 days on the run in Iowa City.
The team at Paws of Hope Animal Rescue said they finally rescued Kinnick, a 3-year-old Labrador mix, early Wednesday morning after he had been on the run since August 2022.
In a Facebook post, the rescue team said Kinnick was originally saved from a terrible situation that left him with severe injuries, including the loss of his leg. They believe he was used as a bait dog for dog fighting.
Kinnick was rescued and adopted by a loving family, but he was still fearful of other people and animals.
He had been with his new family for about two weeks in August 2022 when he got away.
"While out for a walk with his owner, Annabelle, something spooked him and yanked the leash right out of her hand," Paws of Hope Animal Rescue said.
From there, the family, the rescue team and the community were in for a long road ahead to get Kinnick back home.
He was on the run for months and covered much of Iowa City. Kinnick was too smart to fall for traps.
Because of Kinnick's previous abuse, the team said he doesn't trust other animals and is very fearful of other people, which made rescuing him particularly difficult, despite attempts to lure him with food.
"He didn't fall for our live traps. He just headed on to a bowl left out for other animals. And passed up the dog food, steak, sometimes roast, chicken, you name it, he wasn't falling for it," Paws of Hope Animal Rescue said.
The team tracked Kinnick's three-legged paw prints after the first snowfall in the winter and set up cameras and a food station where most of the prints were. Volunteers even spent their Christmas continuing the search.
Paws of Hope Animal Rescue shared numerous images from the cameras showing Kinnick, as well as other animals, venturing into the area where the food was set up.
The search finally came to an end Wednesday at 3:04 a.m. after 246 long days when searchers were finally able to capture the dog.
With Kinnick safely back home, Paws of Hope Animal Rescue thanked the Iowa City community for its help and joked that Kinnick gave everyone quite the tour of the city.
"Kinnick, on behalf of the Paws of Hope team, we are hoping you've had your fair share of exploring the Iowa city area," they said. "You've shown us parts of Iowa City as life long Iowans, that we've never seen. Thank you for the tour. We love you buddy!"
Although the search was a long one, Paws of Hope Animal Rescue said they never considered giving up on Kinnick.
"This was exhausting, mentally and physically," they said. "But totally worth it for an outcome like this."
Copyright 2023 KCRG via Gray Media Group, Inc. All rights reserved.