Female Republican governors launch 'Real Woman' koozies, parodying Bud Light campaign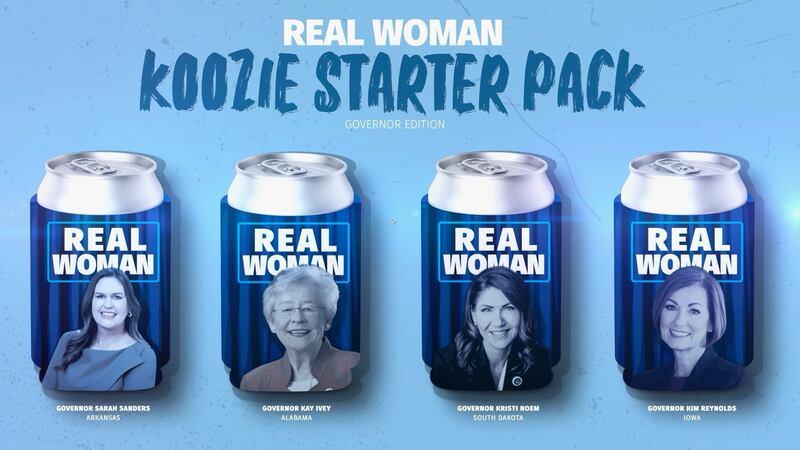 Published: Apr. 25, 2023 at 12:31 PM PDT
(KCRG/Gray News) – A handful of Republican governors are promoting a pack of koozies in an apparent parody of Bud Light's cans that were a part of a controversial LGBTQ+ campaign.
On Sunday, Arkansas Gov. Sarah Huckabee-Sanders began selling koozies on her website that say, "Real Woman," with photos of herself, Iowa Gov. Kim Reynolds, South Dakota Gov. Kristi Noem and Alabama Gov. Kay Ivey.
The koozies come after Bud Light parent company Anheuser-Busch InBev received criticism from conservative groups in response to a partnership with transgender social media influencer Dylan Mulvaney.
Under the partnership, the company produced Bud Light cans with Mulvaney's face on them.
The Associated Press reports the company's marketing executive Alissa Heinerscheid, who oversaw the partnership between Bud Light and Mulvaney, is taking a leave of absence after the pushback turned into calls for boycotts.
The "Real Woman" koozies are available on Huckabee-Sanders' website in packs of two for $15.
In a tweet with a promotional video for the koozies, Huckabee-Sanders wrote, "Real women don't have to fake it." She followed up with another tweet, writing, "We like our beer cold, not woke."
Reynolds shared an image of the koozies in a tweet, writing, "Woke Corporations are trying to change who WE are!"
As of Tuesday afternoon, Noem and Ivey had not publicly promoted the koozies.
Copyright 2023 KCRG via Gray Media Group, Inc. All rights reserved.