Tucker Carlson out at Fox News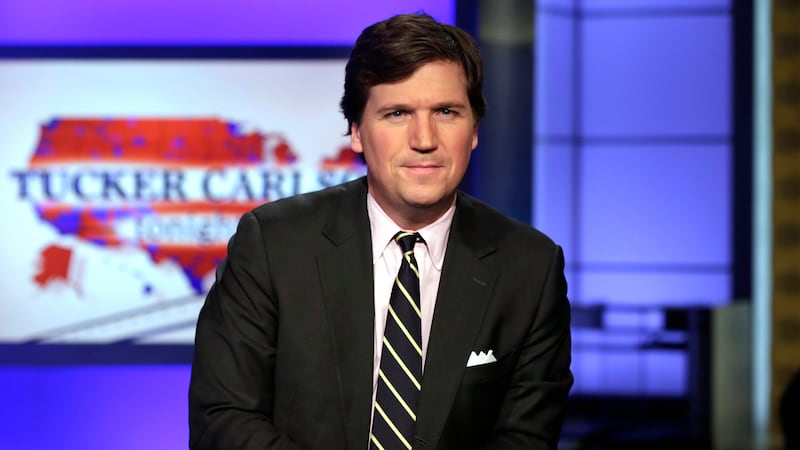 Published: Apr. 24, 2023 at 8:44 AM PDT
By Oliver Darcy and Marshall Cohen, CNN
(CNN) -- Fox News and Tucker Carlson, the right-wing extremist who hosted the network's highly rated 8 p.m. hour, have severed ties, the network said in a stunning announcement Monday.
The announcement came one week after Fox News settled a monster defamation lawsuit with Dominion Voting Systems for $787.5 million over the network's dissemination of election lies.
Fox News said that Carlson's last show was Friday, April 21.
Tucker Carlson was a key figure in Dominion Voting Systems' mammoth defamation lawsuit against Fox News, which the parties settled last week on the brink of trial for a historic $787 million.
In some ways, Carlson played an outsized role in the litigation: Only one of the 20 allegedly defamatory Fox broadcasts mentioned in the lawsuit came from Carlson's top-rated show. But, as CNN exclusively reported, he was set to be one of Dominion's first witnesses to testify at trial. And his private text messages, which became public as part of the suit, reverberated nationwide.
Dominion got its hands on Carlson's group chat with fellow Fox primetime stars Sean Hannity and Laura Ingraham, and a trove of other messages from around the 2020 presidential election.
These communications revealed that Carlson told confidants that he "passionately" hated former President Donald Trump and that Trump's tenure in the White House was a "disaster." He also used misogynistic terms to criticize pro-Trump lawyer Sidney Powell and reject her conspiracies about the 2020 election -- even as those wild theories got airtime on Fox News.
The lawsuit exposed how Carlson privately held a wholly different view than his on-air persona.
Carlson's departure at Fox News comes after the network also severed ties with right-wing bomb thrower Dan Bongino, who had been a regular fixture on the network's programming, in addition to hosting a weekend show.
"Folks, regretfully, last week was my last show on Fox News on the Fox News Channel," Bongino said on Rumble, chalking up the exit to a contract dispute.
"So the show ending last week was tough. And I want you to know it's not some big conspiracy. I promise you. There's not, there's no acrimony. This wasn't some, like, WWE brawl that happened. We just couldn't come to terms on an extension. And that's really it."
Fox News responded in a statement, "We thank Dan for his contributions and wish him success in his future endeavors."
Shares of Fox Corp. fell 5% on the news. The stock had been up slightly before the announcement. Carlson did not immediately respond to a CNN request for comment.
This is a developing story.
The-CNN-Wire™ & © 2023 Cable News Network, Inc., a Warner Bros. Discovery Company. All rights reserved.