GM to stop making the Camaro; successor may be in works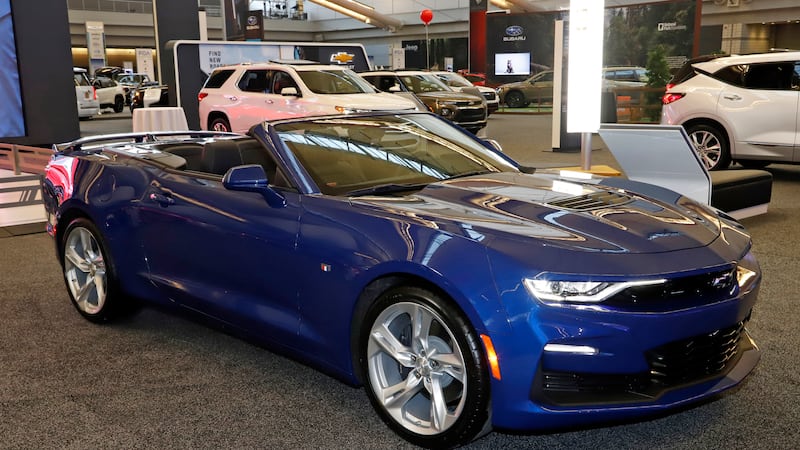 Published: Mar. 22, 2023 at 10:53 AM PDT
|
Updated: Mar. 22, 2023 at 12:36 PM PDT
DETROIT (AP) — The Chevrolet Camaro, for decades the dream car of many teenage American males, is going out of production.
General Motors, which sells the brawny muscle car, said Wednesday it will stop making the current generation early next year.
The future of the car, which is raced on NASCAR and other circuits, is a bit murky. GM says another generation may be in the works.
"While we are not announcing an immediate successor today, rest assured, this is not the end of Camaro's story," Scott Bell, vice president of Chevrolet, said in a statement.
The current sixth-generation Camaro, introduced in 2016, has done well on the racetrack, but sales have been tailing off in recent years. When the current generation Camaro came out in 2016, Chevrolet sold 72,705 of them. But by the end of 2021 that number fell almost 70% to 21,893. It rebounded a bit last year to 24,652.
GM said last of the 2024 model year of the cars will come off the assembly line in Lansing, Michigan, in January.
Spokesman Trevor Thompkins said he can't say anything more about a future Camaro. "We're not saying anything specific right now," he said.
If GM revives the Camaro, it almost certainly will be electric, said Stephanie Brinley, an associate director with S&P Global Mobility. "It would be unlikely to see another internal combustion engine vehicle," she said.
GM has said it plans to sell only electric passenger vehicles worldwide by 2035.
Brinley said the push to sell more electric vehicles makes it likely that all new muscle cars will be powered by batteries. But if there's still a mixed combustion and battery fleet on sale in 2030 or 2040, some gas-powered muscle cars could survive.
Thompkins said GM has an understanding with auto-racing sanctioning bodies that the sixth-generation car can continue racing. GM will have parts available and the Camaro body will stay on the race track, he said.
NASCAR said that because the Generation 6 Camaro was in production when GM originally got permission to race, it remains qualified to race in NASCAR Cup and NASCAR Xfinity Series races.
GM will offer a collector's edition package of the 2024 Camaro RS and SS in North America, and a limited number of high-performance ZL-1 Camaros. The collector's edition cars will have ties to the first-generation Camaro from the 1960s and its GM code name "Panther," the company said without giving specifics.
GM's move comes as traditional gas-powered muscle cars are starting to be phased out due to strict government fuel economy regulations, concerns about climate change and an accelerating shift toward electric vehicles.
Stellantis, will stop making gas versions of the Dodge Challenger and Charger and the Chrylser 300 big sedan by the end of this year. But the company has plans to roll out a battery-powered Charger performance car sometime in 2024.
Electric cars, with instant torque and a low center of gravity, often are faster and handle better than internal combustion vehicles.
Stellantis, formed in 2021 by combining Fiat Chrysler and France's PSA Peugeot, earlier this week announced the last of its special edition muscle cars, the 1,025 horsepower Dodge Challenger SRT Demon 170. The company says the car can go from zero to 60 mph (97 kilometers per hour) in 1.66 seconds, making it the fastest production car on the market.
In addition, Ford rolled out a new version of its Mustang sports car in September.
The Camaro was first introduced in 1966, two years after Ford's wildly popular Mustang.
GM retired the Camaro nameplate in 2002, but revived it as a new 2010 model with hopes of appealing to enthusiasts and younger buyers. The 2010 version was similar to its predecessors, with a long, flat front and side "gills" that evoke the original, while still sporting a modern overall design.
_____
AP Auto Racing Writer Jenna Fryer contributed from Charlotte, North Carolina.
Copyright 2023 The Associated Press. All rights reserved.