47 Las Vegas Valley schools to be phased out of Title 1 funding for next school year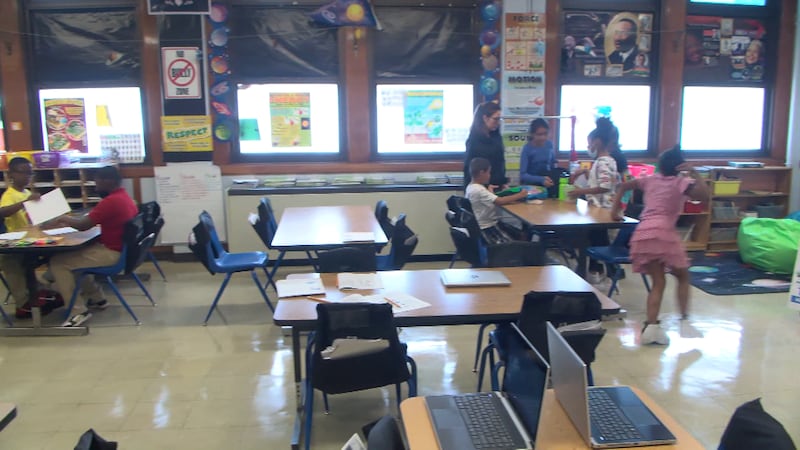 Published: Mar. 14, 2023 at 11:27 AM PDT
LAS VEGAS, Nev. (FOX5) - Forty-seven schools within the Clark County School District will lose Title I funding for the 2023-24 school year, a representative for CCSD confirmed on Tuesday.
"As part of the annual budget process, CCSD reviews the allocation of federal Title I funding to ensure these dollars provide the greatest possible benefit to Clark County students," a spokesperson for the district said.
Title I is a federally funded program that gives additional monies to schools with higher rates of poverty sometimes through various means, like free or reduced lunches.
For the 2023-24 school year, CCSD will allocate Title I funds to schools where 75% or more of students qualify for free or reduced-price lunch as of December 2022.
The adjustment means 47 schools will be phased out of Title I funding for the upcoming school year.
"Under previous criteria, 42 schools would have been categorized as Tier II in the 2023-2024 school year. Five schools have FRL percentages that would have phased them out of the Title I criteria entirely for the 2023-24 school year," CCSD said.
Impacted schools:
Alamo, Tony ES
Escobedo, Edmundo MS
Legacy HS
Ortwein, Dennis ES
Beatty, John R. ES
Faiss, Wilbur & Theresa MS
Mack, Nate ES
Perkins, Ute ES
Becker, Ernest MS
Fine, Mark L. ES
Mackey, Jo ES
Rogers, Lucille ES
Berkley, Shelley ES
Global Community HS
Mackey, Jo MS
Schorr, Steven ES
Blue Diamond ES
Hayes, Keith & Karen ES
Mathis, Dr. Beverly S. ES
Sierra Vista HS
Canarelli MS
Hoggard, Mabel ES
May, Ernest ES
Snyder, Don & Dee ES
Carl, Kay ES
Hughes, Charles Arther MS
McCaw, Gordon ES
Spring Valley HS
Cox, David M. ES
Hyde Park MS
Neal, Joseph M. ES
Steele, Judi D. ES
Cram, Brian & Teri MS
Indian Springs HS
NV Learning Academy ES
Thompson, Sandra Lee ES
Darnell, Marshall ES
Indian Springs MS
O' Callaghan, Mike MS
Virgin Valley ES
Durango HS
Johnson, Walter MS
Ober, D'Vorre & Hal ES
White, Thurman MS
East CTA HS
Leavitt, Justice Myron E. MS
Odyssey ES
Copyright 2023 KVVU. All rights reserved.