Australian family hurt in helicopter crash suing Las Vegas tour operator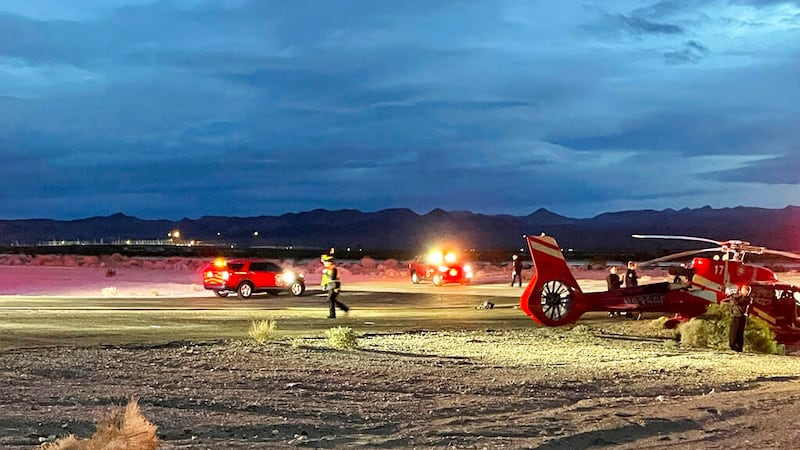 Published: Mar. 1, 2023 at 12:31 PM PST
LAS VEGAS (AP) — Four family members from Australia who were injured during a crash-landing of a sightseeing helicopter in Southern Nevada in December have filed a lawsuit in the U.S. seeking more than $400,000 in damages from the tour operator.
Las Vegas-based Papillon Grand Canyon Tours and parent company Papillon Airways Inc. are accused of negligence and liability in the complaint filed Monday in Nevada state court in Las Vegas.
Company officials and an attorney who has represented it in court in the past did not immediately respond Tuesday and Wednesday to emails from The Associated Press.
Local emergency responders and the National Transportation Safety Board characterized the Dec. 27 crash at Boulder City Municipal Airport as a "hard landing," while the Federal Aviation Administration called it a crash while landing. Officials said seven people were injured.
An NTSB preliminary report said the landing skids of the Airbus EC130 T2 collapsed and the tail boom hit the ground, "resulting in substantial damage." A photo by a Boulder City official posted on Facebook showed the red helicopter upright in a flat desert area. There were no reports of a fire. The pilot was not identified.
Cedomir Rakic and Amy Rakic and their children, ages 19 and 17, allege in the civil complaint that they suffered serious spine injuries including fractures, head injuries and trauma due to "an in-flight loss of control" by the pilot while landing. The family lives in Barwon Heads, near Melbourne, Australia.
"This family came to Las Vegas for a holiday vacation, and they left with life-altering injuries," said Brittany Sanders Robb, attorney for the family. Robb said the lawsuit "seeks answers and accountability" from a company that she alleged "has a history of ill-fated helicopter flights involving its sight-seeing tours."
A Papillon aircraft was involved in a February 2018 crash that killed three British tourists and critically injured four people on tribal land in the Grand Canyon in Arizona. Robb's firm, based in Kansas City, Missouri, also was involved in a lawsuit that resulted in a $38 million payment to a woman who was the only survivor of a Grand Canyon tour crash in August 2001 that killed six people, including the woman's husband and the pilot.
In that case, a mother of two from Brooklyn, New York, suffered a broken back, burns over 80% of her body and had both legs amputated after the crash on a cliff near Meadview, Arizona.
The December crash occurred after a 25-minute flight that FlightAware, an air traffic database, tracked from the Grand Canyon near Kingman, Arizona, to the Boulder City airport. Boulder City is a 30-minute drive from downtown Las Vegas.
Copyright 2023 The Associated Press. All rights reserved.