Analysis: Mahomes, Hurts set for historic Super Bowl matchup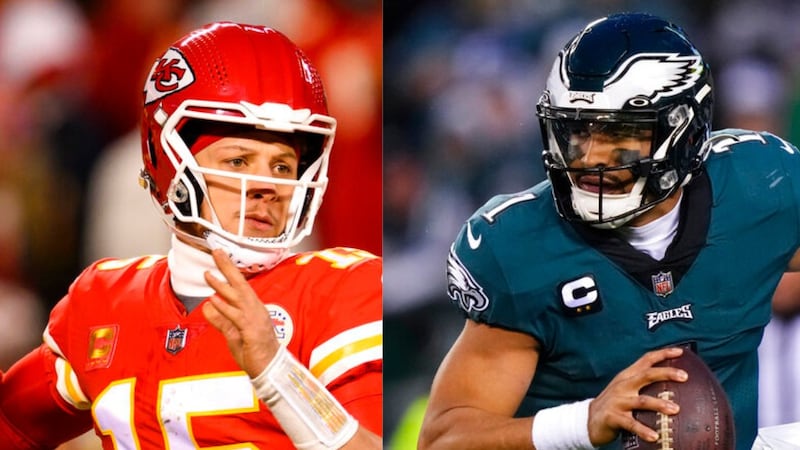 Published: Jan. 31, 2023 at 9:31 AM PST
PHILADELPHIA (AP) — Black quarterbacks have come a long way in the NFL since Fritz Pollard became the first to play in the league in 1923 and Doug Williams was the first to start and win a Super Bowl following the 1987 season.
Now, Patrick Mahomes and Jalen Hurts will be the first Black QBs to face off in a Super Bowl.
It's fitting that a season which began with 11 Black QBs starting in Week 1 will end with a historic matchup.
Mahomes can become the first two-time winner if he leads the Kansas City Chiefs to victory over the Philadelphia Eagles on Feb. 12. Hurts aims to become the fourth Black QB to win the Super Bowl, joining Williams, Mahomes and Russell Wilson.
Steve McNair, Colin Kaepernick, Cam Newton and Wilson also started in the Super Bowl and lost.
Michael Vick was the first Black QB selected No. 1 overall in the draft in 2001. McNair became the first Black QB to win MVP in 2003. Mahomes and Lamar Jackson won it back-to-back years.
They all had to overcome stereotypes to get to this point.
Jackson said a scout from the Los Angeles Chargers asked him to run routes at the NFL combine in 2018. The Baltimore Ravens ended up selecting him with the 32nd pick in the first round and he was MVP in his second season.
Donovan McNabb, a six-time Pro Bowl QB who started five NFC championship games for the Eagles, was told by some college scouts that he had to play running back or wide receiver. He wouldn't switch positions, went to Syracuse to play quarterback and was drafted No. 2 overall in 1999 by Philadelphia.
Hurts began his NFL career in 2020 as an all-purpose QB after the Eagles took him in the second round. Playing behind Carson Wentz, Hurts had 12 rushing attempts, one catch and threw just three passes in his first nine games before taking over as Philadelphia's QB.
He clearly has not forgotten that the decision to draft him in the second round of the 2020 draft was widely criticized by reporters and fans.
"My first year here, (people) probably didn't even want to draft me here," Hurts said Sunday. "It was probably one of those things. But it always handles itself."
Neither Hurts nor Mahomes celebrated their conference championship wins too much. The main goal remains ahead. They each want one more win.
Hurts puffed a victory cigar after the Eagles routed the San Francisco 49ers 31-7 but he showed little emotion, per usual, in his postgame news conference.
"I don't really know how to feel to be honest. You work really hard to put yourself in this position and I'm forever grateful," Hurts said. "Only God knows the things that each individual on this team has been able to overcome for us to come together as a team and do something special as a group. That's what means the most. I always want to go out there and give my best regardless of what's going on because I don't want to let down the guy next to me. That makes us all go harder."
Hurts, a finalist along with Mahomes for AP NFL MVP and Offensive Player of the Year, missed two games late in the season with a shoulder injury. The Eagles haven't had to lean on him in two lopsided playoff wins. He has only 275 yards passing and two TDs along with 73 yards rushing and two scores.
"I know I've been through a lot personally, but I don't want to steer away from the direction of how good this team has been at playing together, being together, and challenging one another," Hurts said. "When we experience some painful times and some tough times, we always found a way to overcome. You want to be going into a situation like this, and we have a chance to go out there and win it all, so we want to prepare to go do that."
Mahomes battled through an ankle injury to help the Chiefs beat the Cincinnati Bengals 23-20 to advance to their third Super Bowl appearance in four years.
He had no intention of lighting up a victory cigar after a hard-fought win.
"I don't think we have any cigars, but we'll be ready to go at the Super Bowl," Mahomes said, poking fun at Joe Burrow's penchant for puffing those after big wins.
Only one QB can win the Super Bowl. Whether it's Hurts or Mahomes, it's another victory for the Black QBs who were overlooked throughout the years.
Copyright 2023 The Associated Press. All rights reserved.