Woman accused of stealing $15K from safe in Las Vegas hotel room, police say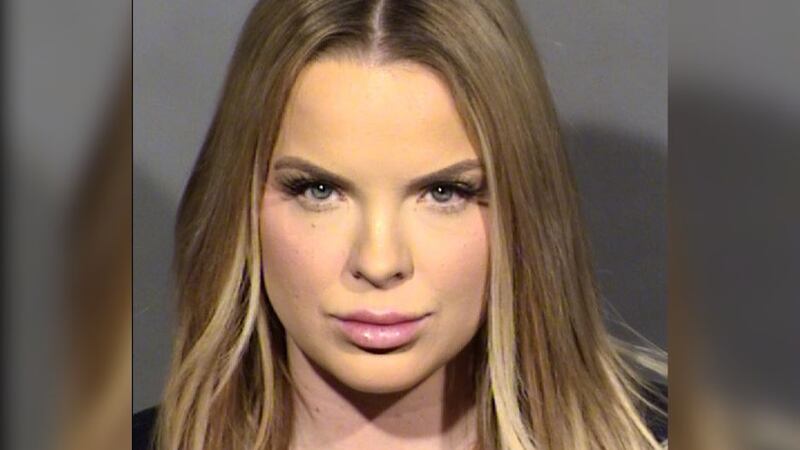 Published: Jan. 27, 2023 at 2:34 PM PST
LAS VEGAS, Nev. (FOX5) - A Las Vegas woman is accused of stealing $15,000 in Canadian Dollars from an unlocked safe in a hotel room, according to authorities.
Mackenzie Long, 28, who was taken into custody on Thursday, is facing charges of residential burglary, possession of documents to commit forgery, grand larceny, conspiracy to commit grand larceny and loitering for the purpose of prostitution, records show.
An arrest report filed by the Las Vegas Metropolitan Police Department states the following:
On June 17, the alleged victim contacted LVMPD about a theft in which he and several friends were victims.
The report states the victim was with friends at a hotel on June 17. At around 2 a.m. that day, the group met Long and another woman on the casino floor and exchanged phone numbers.
Eventually, they all met up at the hotel room where there was a safe, the report says. Cash and passports were secured in the safe. However, they told police the safe was not locked.
The group moved to the hotel's pool and after some time, Long and the other woman disappeared, the report says.
"Due to the suspects leaving and not returning the victims became suspicious," the report reads.
The victims told people that they eventually went back to the room and discovered it was "slightly ransacked," and realized their money and passports were missing.
In all, about $15,000 Canadian Dollars and a laptop were stolen, as well as passports, according to the report.
On Friday, the conversion from Canadian Dollars to USD shows the value to be about $11,249.
On Thursday, Long was arrested "for the purpose of prostitution at the Aria," police said.
Long is currently out on bond. Her next court date is scheduled for March 2, records indicate.
Copyright 2023 KVVU. All rights reserved.