LIVE: Las Vegas drivers to see full closure of I-15 at Tropicana this weekend
Published: Jan. 25, 2023 at 10:04 AM PST
LAS VEGAS, Nev. (FOX5) - The Nevada Department of Transportation (NDOT) is advising Las Vegas drivers of a full closure of Interstate 15 at Tropicana this weekend.
According to a news release, both north- and southbound lanes of the Interstate 15 will be impacted. The agency says the freeway will close between Russell and Flamingo roads from 10 p.m. Friday, Jan. 27 until 5 a.m. on Monday, Jan. 30.
According to NDOT, during the closure, there will be posted detours at Russell and Flamingo roads. However, detour routes are expected to fill up quickly, NDOT says.
The agency says it is working with authorities to staff detour routes with uniformed personnel and marked patrol vehicles.
Additionally, according to NDOT, RTC/FAST will provide 24/7 monitoring of traffic during the closure and can adjust signal timing as necessary to help ease congestion.
NDOT says drivers are encouraged to avoid the area if possible or use a navigation app to reroute past backups.
The closure, according to NDOT, "is necessary to demolish the north half of the Tropicana bridge over I-15, which is being rebuilt taller, wider, and longer, with additional capacity and safety enhancements for drivers and pedestrians."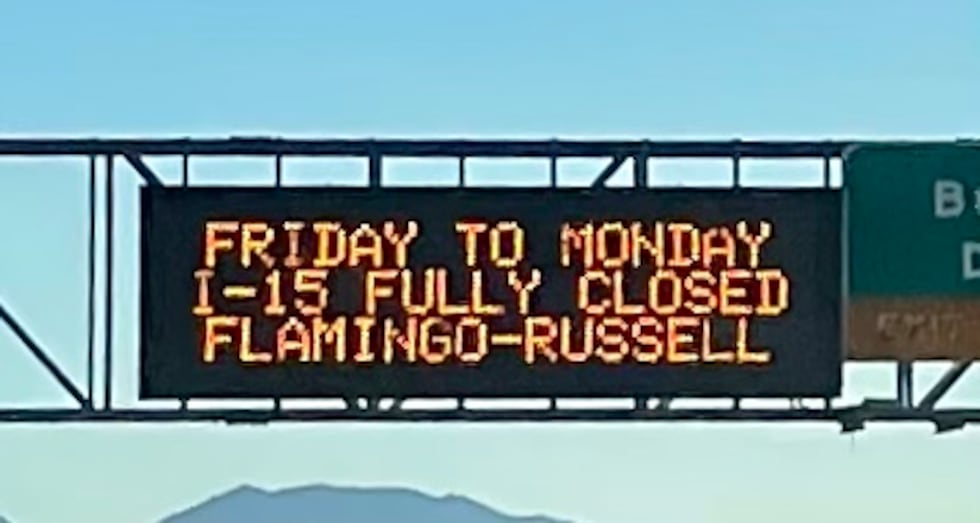 The agency also advises that upon reopening Monday morning, Tropicana Avenue will be reduced to two lanes in each direction. The ramps from southbound I-15 to Tropicana will remain closed for several months as the bridge is rebuilt, NDOT says.
NDOT says the I-15/Tropicana Design-Build project began in May and is expected to continue into early 2025.
Copyright 2023 KVVU. All rights reserved.