Raiders face many offseason questions, most notably at QB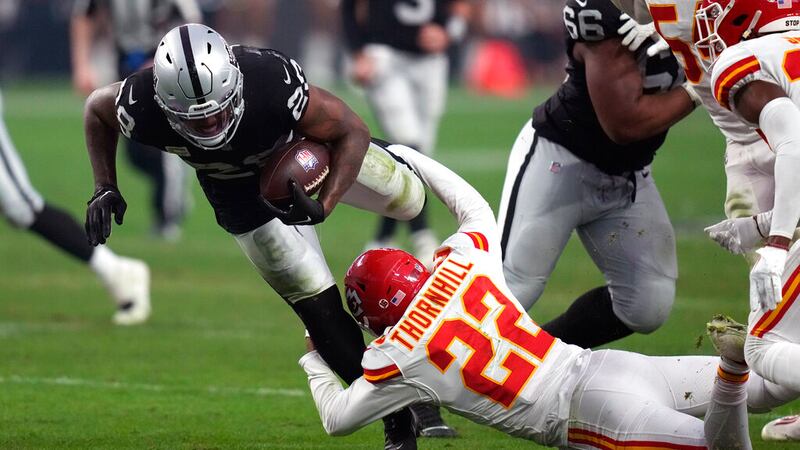 Published: Jan. 10, 2023 at 6:18 AM PST
HENDERSON, Nev. (AP) — When a team goes 6-11, the problems go beyond quarterback, and that's the situation the Las Vegas Raiders face.
Coach Josh McDaniels and general manager Dave Ziegler will need to figure out who replaces quarterback Derek Carr, how to bring back running back Josh Jacobs, what changes need to be made on the offensive line and what to do about one of the NFL's worst defenses.
But in the NFL in 2023, teams without a franchise quarterback are at a considerable disadvantage, so for McDaniels to get the Raiders heading in the right direction next season, job No. 1 is to find more than a capable replacement for Carr. And McDaniels, who likely moved on from Carr two weeks ago, knows it.
Raiders management can try to get a veteran. Tampa Bay's Tom Brady and San Francisco's Jimmy Garoppolo will be prominently mentioned over the coming weeks because both played for McDaniels when he was New England's offensive coordinator.
The Raiders own the No. 7 pick in the draft, and they could put the organization in the hands of a rookie quarterback. Three QBs could be picked in the top seven — Alabama's Bryce Young, Ohio State's C.J. Stroud and Kentucky's Will Levis — and a number of teams could be willing to trade up to land at least one of them.
Jarrett Stidham, who started the final two games, also is likely to be in the picture.
"At the end of the day, we'll need to make some decisions about everything," McDaniels said Monday. "That position obviously is paramount, but it would be no different at any other position. But it'll start with that. That's the process that we're getting ready to embark on. We have not done that yet. We will. And it'll take us a little time because it needs to be thorough, and it deserves time."
JACOBS WANTS TO RETURN
McDaniels has done nothing but rave about Jacobs all season, and rightfully so.
Jacobs became only the second Raider to win an NFL rushing title. He rushed for 1,653 yards. Tennessee's Derrick Henry was second with 1,538 yards.
"I have a tremendous amount of respect and admiration for him as a person and as a player, and he kind of embodies all the things that we want a Raider to be," McDaniels said.
Raiders management, however, made the mistake of declining Jacobs' fifth-year option, and will pay the price in a literal sense by re-signing him at a much higher salary or watching him depart for another team. Jacobs' option was worth about $8 million.
Jacobs, who received the Craig Long Award on Monday for being cooperative with the media, made it clear he would like to be back in Las Vegas.
"Obviously, for me, it's got to make sense," Jacobs said Monday. "This is obviously where I want to be. ... Hopefully, I'll be back."
STAFF CHANGES?
With the Raiders' defense ranking near the bottom of the NFL in multiple categories, the question has arisen this season whether coordinator Patrick Graham will be back. McDaniels has repeatedly backed Graham, and there is no indication the Raiders will have a different coordinator next season.
As for other staff positions, the Raiders know assistant special teams coordinator Maurice Drayton won't return because he is now The Citadel's head coach. Otherwise, it's not clear if there will be any kind of staff shakeup.
"I think those guys have worked really hard and done everything that they could do to try to help put our team in position to win," McDaniels said. "We are going to evaluate our own performance, for sure, and that's every year."
SEASON OF CLOSE CALLS
The Raiders watched six double-digit second-half leads disappear and lost an NFL-record five of those games.
Opposing coaches have spent the past several weeks saying the Raiders are much better than their record because of those close calls. It also could be argued this team didn't know how to win close games and that McDaniels needs to get better at situational football in a league where so many games come down to the final minutes.
"Our focus and goal now is going to be on how do we close the gap to try to either put us over the hump on some of those close games or maybe create less close games," McDaniels said. "Our goal is to try to improve it now going forward, improve our team in any way that we can so that when we line up and play again next year, we're a hell of a lot closer, we're more competitive and we're able to win more games."
NEXT STEPS
Left tackle Kolton Miller and center Andre James have shown they can be quality offensive linemen, but the Raiders need better players around those two.
The questions are even more plentiful on defense, where probably besides ends Maxx Crosby and Chandler Jones and cornerback Nate Hobbs, few options are off the table.
Copyright 2023 The Associated Press. All rights reserved.