Las Vegas volunteers deliver winter clothes, sleeping bags to people on streets or in camps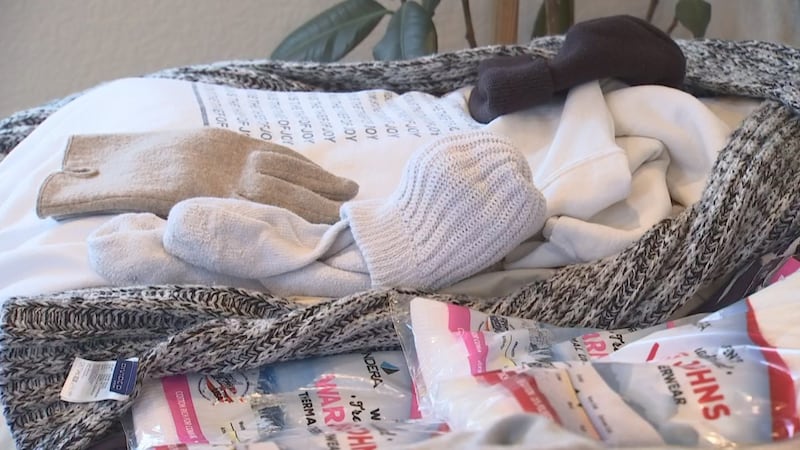 Published: Jan. 9, 2023 at 9:50 AM PST
LAS VEGAS, Nev. (FOX5) - As temperatures dip close to or below freezing in the Las Vegas Valley, a group of volunteers are going out to people on the streets or in camps to make sure they have winter clothes and supplies.
The Promise has a crucial mission: to deliver water in the desert to those who are homeless. They deliver on the weekends to where people camp in outings called "Sunday Service." The mission this winter extends to crucial winter gear: gloves, long johns, sleeping bags, coats and layers.
They, like other Clark County officials, have seen more people down on their luck and sleeping on the streets or in camps.
"The need is super high. We have seen a spike. We just had a loss in the community because one of our members passed away, sadly, trying to stay warm during the winter. His tent caught fire," said Diana Pedraza Harrison. "With the winter months they need layers," she said.
The group also brings supplies to the pop-up pantry run by the Community of Hope. When people come to the pantry to get snacks or other goods, volunteers with the promise also make sure they can get the winter layers they need.
"We believe in radical hospitality. So a lot of the footwork that we do is coming to them," she said.
"If you've never been homeless, you don't know what it takes to be homeless... you don't think about how somebody has to travel without a car without an ID, without finances," said Michael Harrison, who was once without a home as well.
"We're doing what we can to supply the need," Diana Pedraza Harrison said.
The group also focuses on aid with ID and Social Security card restoration.
If you'd like to donate supplies or clothes, you can contact The Promise at thepromiselv@gmail.com.
They can also be contacted via Instagram: The Promise
Copyright 2023 KVVU. All rights reserved.