Chaos, flight delays at Las Vegas airport after 'unfounded' reports of active shooter causes 'stampede'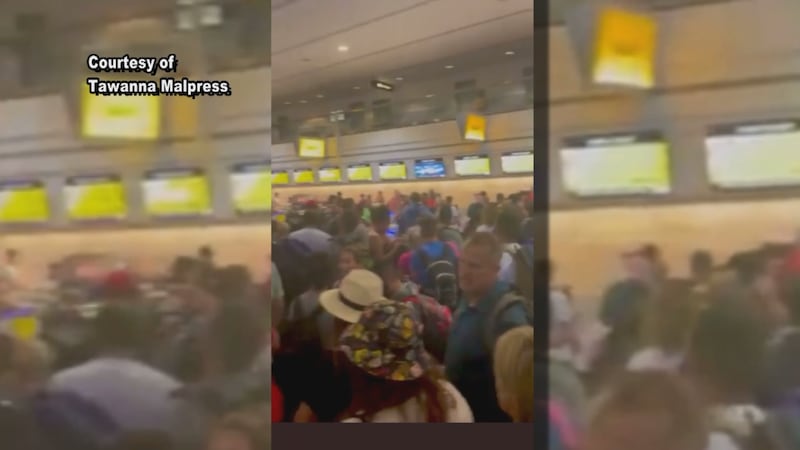 Published: Aug. 14, 2022 at 8:06 AM PDT
LAS VEGAS, Nev. (FOX5) - Several flights were delayed at Harry Reid International Airport early Sunday morning after security checkpoints were compromised by panicked travelers. It happened after a stampede broke out, when false reports of a shooting quickly spread, according to police.
Airport officials and Las Vegas Metropolitan Police said a loud noise in Terminal 1 around 4:30 a.m. led to panic, with people thinking they had heard gunshots. LVMPD said the noise is believed to be the result of an unruly person, who was taken into custody. Airport officials described it as a "security incident."
Multiple concourses were cleared by security after the incident, airport officials said. Flights were held at the concourses and all passengers who were in the airport had to exit and be screened or re-screened through security.
Passengers who witnessed the panic described it as a "stampede." It is unclear if any injuries were reported.
The incident created massive lines that backed up all the way to the parking garage, according to travelers.
Prior to being asked to re-screen, several travelers told FOX5 that they were able to walk through security un-checked because TSA agents had reportedly abandoned their posts during the panic.
"Half of the security line dropped to the ground," airport traveler Christopher Neece told FOX5. "The other half started to step over those on the ground to get through security. You either ran with them or got knocked down. When I arrived at the front of security, there wasn't a single TSA agent present."
In a video provided by another traveler, he can be heard saying, "no one knows what's happening, we're just piling through," as he traipses through the metal detectors with his luggage in hand.
"People were running, people that were already in line to get through TSA, they were scrambling and just ran through the metal detectors," said Tawanna Malpress, who was attempting to go back home to Orlando after getting married in Las Vegas this weekend.
So now, the question becomes: how is it that passengers were able to pour through security unvetted?
FOX5 got in touch with a TSA spokesperson for the pacific region Monday, who said that the agents responded appropriately by running and hiding. She said they are instructed to "run, hide, fight" in the case of an active shooter, and added that they followed their training based on the limited info they had in a short period of time.
The reason they are trained to run in this situation is because they have an alternative security measure in the case of an emergency: the "terminal dump" and gate closure, actions they executed to ensure safety on flights by rescreening everyone.
She reiterated that TSA is not the same as law enforcement. She said this emergency would fall under the response of police, not TSA agents.
Malpress said, "It did actually sound like gunshots. It was really really loud, you could hear it throughout the airport... people just started running everywhere, just running out of the airport, just running all over the airport, and my family and I just start hiding behind the kiosk machine."
Malpress was at Spirit Airline's front desk for checking bags when she said she heard the loud sound in question. She said employees began to panic and an employee screamed.
"The young lady screamed, she worked for Spirit, she screamed to the top of her lungs, she was like, 'Don't do that! You can't come back there!' And she was just screaming really loud... So by that time, it's a stampede of people," said Malpress.
Police have yet to share any information on reported injuries, but one man showed us a photo he said he took of a fellow passenger being escorted out on a stretcher.
Separately, Malpress said, "I seen two young ladies that were actually injured when the stampede happened. One of them had a big gash in her leg and it was bleeding. I think she got ran over. Like I said, people were running everywhere."
"It was wild, to put it mildly," Neece said. "First thing I did, once at my gate, was call my woman and told her I loved her. That's the scene. It felt very serious."
This is at least the fourth time since May that a false report of a shooting have sent crowds of people scrambling. There was an incident at the Lovers and Friends music festival in May, and then the incident along the Las Vegas Strip July 16, and another at Fashion Show Mall about a week after that.
FOX5 is still working to learn more about this developing story, and we will bring you the latest on air and online.
Copyright 2022 KVVU. All rights reserved.