Raiders' Nate Hobbs was under legal limit when arrested on DUI, pleads guilty to careless driving
Hobbs will pay fine, complete community service as part of deal.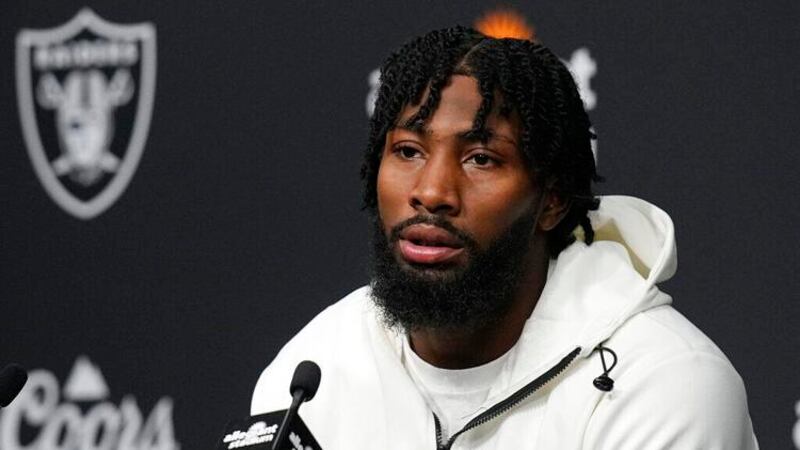 Updated: Jan. 26, 2022 at 8:34 AM PST
LAS VEGAS, Nev. (FOX5) - Raiders cornerback Nathan Hobbs was under the legal limit for driving under the influence when he was arrested, the Clark County District Attorney announced Wednesday. As a result, Hobbs pleaded guilty to a lesser charge.
The DA's office announced that a blood analysis showed Hobbs was under the legal limit for a DUI charge when he was arrested Jan. 3. According to police, Hobbs was found asleep in his car at the parking garage for The Cromwell on the Las Vegas Strip.
Hobbs entered a guilty plea to one count of unlawful manners of driving--careless driving on Wednesday, the DA's office said. The complaint alleges Hobbs did "willfully and unlawfully operate a vehicle in any other than a careful or prudent manner by falling asleep in an exit lane" in the parking garage.
"Mr. Hobbs' case will progress through the normal channels of the justice system, as would any other case with similar circumstances," DA Steve Wolfson said. "Additionally, he will be submitting to an alcohol treatment program provided by the National Football League (NFL) and the NFL Players' Association."
Hobbs will pay a $685 fine, complete a victim impact panel and complete 20 hours of community service. Hobbs would face a 30-day jail sentence if he doesn't meet court requirements.
Hobb's lawyers released the following statement:
Since Mr. Hobbs did not violate the DUI laws he was not charged, nor will he be charged, with a DUI offense. He will fulfill his court obligations for the careless driving traffic offense.
Hobbs' next court date was scheduled for March 23. FOX5 has reached out to the Raiders for comment.
Copyright 2022 KVVU. All rights reserved.