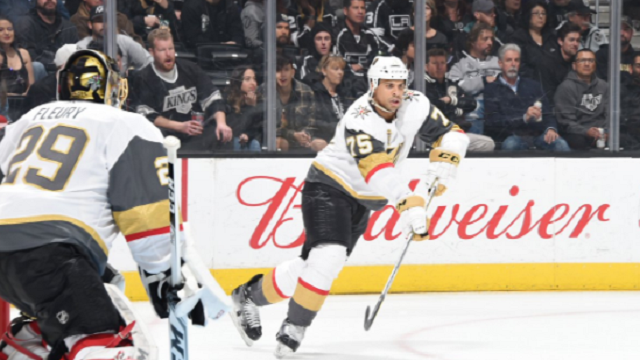 (Golden Knights/Twitter)
LAS VEGAS (FOX5) -
The Vegas Golden Knights navigated their first ever "deadline day," making three moves before the NHL trade deadline at noon on Monday.
"For all of us, it's an exciting time of the year," Golden Knights General Manager George McPhee said on a call with the media after the deadline.
Here's a breakdown of the trades:
Vegas traded for Pittsburgh Penguin forward Ryan Reaves and a fourth round draft pick, sending prospect Tobias Lindberg to Pittsburgh.
The Golden Knights sent Brendan Leipsic to the Vancouver Canucks in exchange for Philip Holm.
Vegas acquired forward Tomas Tatar from the Detroit Red Wings for a 2018 first-round pick, a 2019 second-round pick, and a third-round pick in 2021.
"This is our team now, and we're excited for the stretch run and we know our fans are to," McPhee said.
McPhee said the team's front office wanted to be aggressive before the deadline and built of the Golden Knight's impressive success in its first season, but he didn't want to break up the team chemistry.
"This team deserves to be together, and we kept them together for a reason, and we were aggressive in doing that as well...we're trying to win right now," McPhee said.
Copyright 2018 KVVU (KVVU Broadcasting Corporation). All rights reserved.