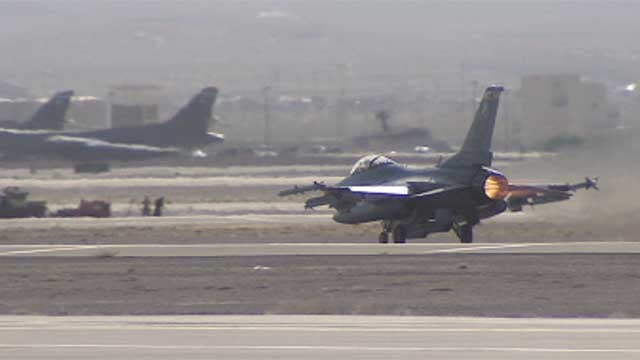 (File/FOX5)
LAS VEGAS (FOX5) -
Nellis Air Force Base is seeking input from the public on a proposal to extend the Nevada Test and Training Range site.
The Air Force is proposing to add up to 301,507 acres of land to support military testing and training. The proposal would also support other national defense activities. The current rangeland withdrawal is set to expire on Nov. 6, 2021.
A 90-day public comment period began on Dec. 8, 2017. The Air Force will host a series of public hearings to provide members of the community with information about the proposal. Members of the public can also mail in written comments or post comments online.
The public hearings will be held at the following dates and locations:
Jan. 17, 5:30 p.m. to 9 p.m., Caliente Elementary School, 289 Lincoln Street, Caliente, NV
Jan. 18, 5:30 p.m. to 9 p.m., Pahranagat Valley High School, 151 South Main Street, Alama, NV
Jan. 23, 5:30 p.m. to 9 p.m., Aliante Hotel, 7300 Aliante Parkway, North Las Vegas, NV
Jan. 24, 5:30 p.m. to 9 p.m., Beatty Community Center, 100 A Avenue South, Beatty, NV
Jan.25, 5:30 p.m. to 9 p.m., Tonopah Convention Center, 301 Brougher Avenue, Tonopah, NV
Representatives from the Air Force and other agencies will attend the hearings. The Air Force will provide a presentation about the proposal from 6:15 p.m. to 7 p.m.
Copyright 2018 KVVU (KVVU Broadcasting Corporation). All rights reserved.