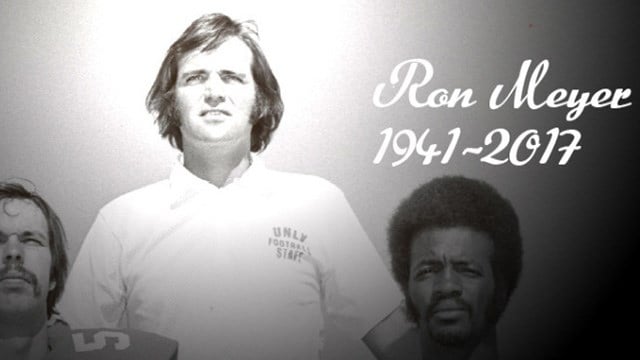 The winningest coach by percentage in UNLV football history has died. Ron Meyer was 76. (Photo: UNLV)
LAS VEGAS (FOX5) -
The winningest coach by percentage in UNLV football history has died. Ron Meyer was 76.
The former Purdue quarterback and assistant coach, took his first head job with the Rebels in 1973 and coached the program for three seasons before taking a job at SMU.
Meyer later became an NFL head coach for the New England Patriots (1982-84) and Indianapolis Colts (1986-91) before he became a pro football analyst for CNN. He returned to the Sam Boyd Stadium sidelines in 1994 to coach the Canadian Football League's Las Vegas Posse franchise during its brief existence.
At UNLV, Meyer replaced the program's original coach, Bill Ireland, and earned a seven-win improvement during his first season. In 1974, the Rebels turned in their only perfect regular-season at 11-0 to earn a No. 2 national small-college ranking by both AP and UPI. UNLV went to the NCAA Division II semifinals that season where it lost to Delaware in the Grantland Rice Bowl in Baton Rouge, Louisiana, finishing the year 12-1.
Meyer, who coached UNLV's first All-American in Hall of Fame running back Mike Thomas, finished with a stunning 23-2 home record earned at what was known then as Las Vegas Stadium. His overall record was 27-8 (.771) coaching from 1973 through 1975.