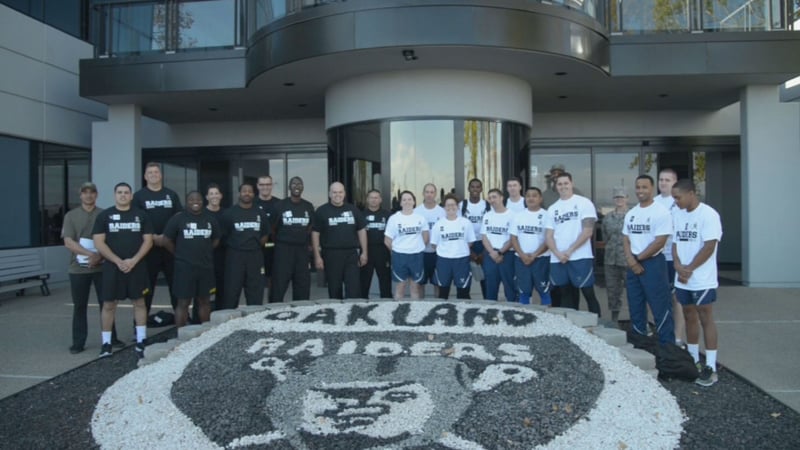 Service members took part in "Salute to Service" with the Raiders. (Source: Raiders)
OAKLAND, CA (FOX5) -
The Raiders used their bye week to take part in a one-of-a-kind experience with service members.
Service members of the U.S. Army stationed at Camp Parks in Dublin and U.S. Air Force soldiers stationed at Travis Air Force Base in Travis spent time with the Raiders as part of the "Salute to Service" activities.
Raiders Alumni Kenny Shedd and Sam Williams served as coaches as the service members took part in chalk talk in the same room the team uses. They reviewed offensive and defensive schemes and assignments.
The service teams then played a game of flag football. Raiders players Jon Condo, Cordarrelle Patterson and Lee Smith served as assistant coaches while the Raiderettes cheered on both teams.
The U.S. Air Force soldiers won 20 to 7 and were awarded the inaugural Salute to Service Flag Football Classic Trophy.
Both teams received $2,000 checks for their non-profit wings from the Raiders Foundations. The funds will go towards educational and emergency reference assistance programs.
Copyright 2017 KVVU (KVVU Broadcasting Corporation). All rights reserved.