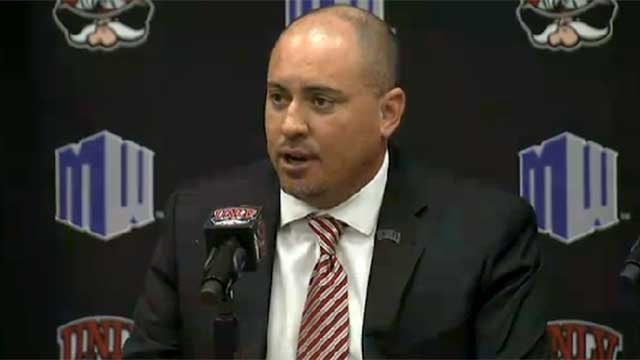 Tony Sanchez talks to the media after being officially introduced as UNLV's choice to be its next football coach Dec. 11, 2014. (Robbie Hunt/FOX5)
LAS VEGAS (FOX5) -
UNLV football coach Tony Sanchez will remain with the school after agreeing on contract extension through 2021.
On Friday, the school's athletics department announced Sanchez agreed on the terms of a three-year extension. Sanchez originally signed a four-year contract when he made the jump from Bishop Gorman High School to the collegiate level in December 2014.
"Tony signed a four-year contract and halfway through it, we are even more convinced he is the answer to the question of how to make UNLV Football consistently successful," athletic director Tina Kunzer-Murphy said. "Continuity is important in turning this program around and Tony's success in building a roster, building the brand and building interest and support throughout the community has earned him an extension to see that vision realized."
Sanchez, who is the 11th head coach in UNLV history, is 7-17 in his two seasons with the school.
While the coaching record is below .500, Sanchez led the school to more wins in 2016 than in the previous season, which marks just the third time in program history that has happened.
"I want to thank President (Len) Jessup and Tina for their continued support along with the entire Southern Nevada community, which has been unbelievable throughout our first two years here," Sanchez said. "I am so excited to be leading UNLV Football for years to come."
Copyright 2017 KVVU (KVVU Broadcasting Corporation). All rights reserved.