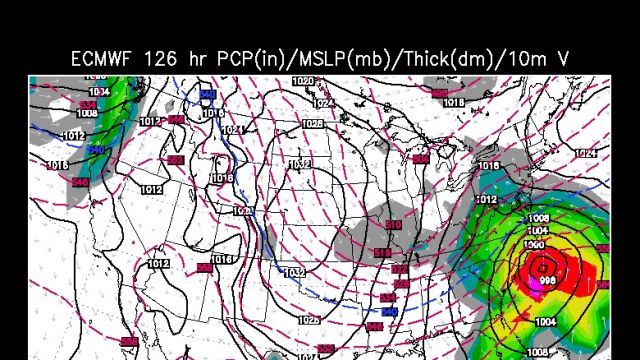 European model for Tuesday
GREENVILLE, SC (FOX Carolina) -
If you have been following my posts, I have been talking about next Tuesday's system in terms of my % confidence that the Upstate and northeast GA will see snow. I started at 15% on Tuesday, then 30% on Wednesday, and now I'm up to 50% now. There's still a lot of time for things to change, but 2 of the 3 long range models that I rely on for winter weather forecasting are showing snow or a rain/snow mix for midday on Tuesday for our area. The European model is now on board (see attached image, it shows a strong low off the coast as of midday Tuesday), and GFS is becoming more consistent run to run in forecasting frozen precipitation. The Canadian model has the same low, but it's farther off the coast and keeps us drier.
So, at this point I'm going with a 70% chance of a wintry mix (50% chance of full blown snow) for the Upstate/GA, and mostly snow in the mountains. I think we would see rain at the onset Monday night, then it would turn to all snow north of 85 and a mix as you head farther south. The 850 freezing line starts in the northern Upstate on Tuesday morning, then dips south through the day as the low pressure wraps in colder air. This means that "all snow" would start in the northern Upstate and mountains then slowly move south as the day wears on.
An accumulation forecast is really tough, if not near-impossible at this juncture. GFS is putting out about 2" of snow for GSP, but some of that will inevitably melt when it hits our warmer ground surface. So coming up with accumulation forecasts will be challenging (even more so than normal!). The heaviest precip will fall toward Columbia and the coast, and that's where there will be more cold rain and wintry mix. In fact, GFS is showing a mostly rain scenario right now for the Midlands.

Timing for the system looks to be Tuesday early morning through middle afternoon. By Tuesday night the precipitation should be transitioning east and north. Tuesday night could be a hazardous night for roads as temps will dip well below freezing in many areas.
That's what I've got for now, and a lot can change! So, keep up with the forecast and we'll keep blogging on how these models evolve. Happy spring!