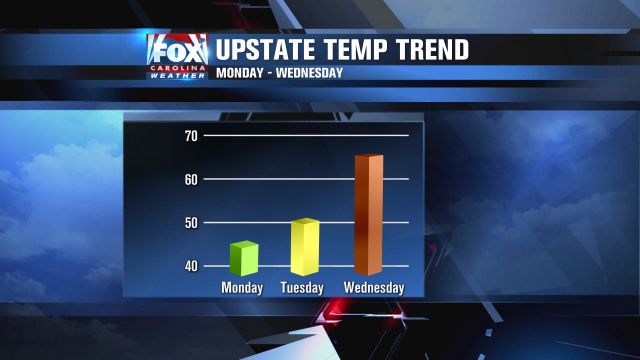 In the last 3 days of winter, we're in for scattered showers, a little sun, and slowly warming temperatures. Today brings the worst of it, with overcast skies and highs in the mid-40s. This is cold for this time of year, when we typically see highs in the upper 50s and mid-60s. Cooler temps bring the concern for wintry mix, which has already proven itself along the eastern mountains of Western NC. Yancey, Mitchell and McDowell counties are under a Winter Weather Advisory for freezing rain until noon today for possible light ice accumulations.
Tomorrow, partly cloudy skies return, with highs reaching into the 40s and low-50s. While most of the day should be dry, we can't rule out a quick passing shower, and even a quick morning snow shower in Western NC.
Wednesday, the final day of the winter season, brings highs into the upper 50s and low 60s, with mostly cloudy skies and scattered showers. Our first day of spring will be sunny & comfortable with highs in the low to mid-60s area-wide.