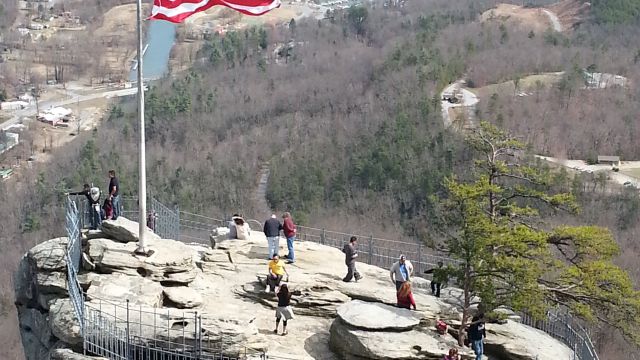 Great hiking weather at Chimney Rock! From Zach Warner
We get one more day of this beautiful weather! We probably won't break any records for warmth, but we'll come close. I think a few spots will hit 80 tomorrow in the Upstate, while the record is 84 from 2009. The mountains will get into the low to mid 70s, while the record is 79 from 1967.
Clouds will build Tuesday night, and rain will be around throughout Wednesday. An area of low pressure will track just to our north and a cold front will swing in during the day. This means temperatures will fall during the afternoon for most of us. Rain will be likely through the day, and we will have a slight storm threat. There will be a lot of shear associated with the low, but we won't have much energy for any storms to access. In those circumstances, we usually just see rainy, breezy conditions, but a few isolated strong storms will be possible. It will be something to monitor early on Wednesday.
We should clear out Wednesday night, and temps will drop FAST! Expect 20s area-wide for both Wednesday and Thursday nights. So, if you've done any planting, you'll want to protect them mid-week.
Thursday will be unseasonably chilly with highs near 50 in the Upstate and 39 for the mountains. Talk about a drastic change from Tuesday to Thursday!