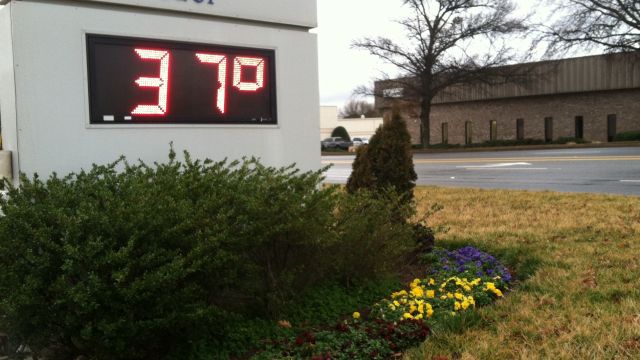 Getting cold in Greenville!
We've had several reports of sleet across the Upstate Monday afternoon, mixed with rain. This is all as a cold front moves through and some lingering moisture is left. We should clear very quickly this evening and temps will drop to WELL-below freezing. Expect mostly clear skies tonight with a low of 26 for the Upstate and 20 in the mountains. It will stay breezy overnight, with 10-20 mph winds making it FEEL even colder.
Tuesday will bring more partly cloudy skies, but the cold air sticks around! Highs will only reach the 40s area-wide, and it will stay breezy with winds out of the northeast at 10-20 mph.
Temperatures rebound quickly on Wednesday as we see more sunshine than Tuesday. Highs will approach 60 during the afternoon. Then our attention is directed to our south as a low pressure develops along the gulf. Yep... sounds like a scenario for some winter weather, right? Well, this time it looks more like a cold rain for the Upstate and a rain/wintry mix for the mountains. As the low pushes in, we just won't have enough cold air in place to support snow or sleet. Freezing rain will be a possibility in the mountains early on Thursday, then we could see some snow as the system pulls away Thursday night. Snow would be confined to the mountains as it looks now.
Then our roller coaster of temps will continue as we warm back into the 60s and 70s by Friday and the weekend!!! Gotta love March!